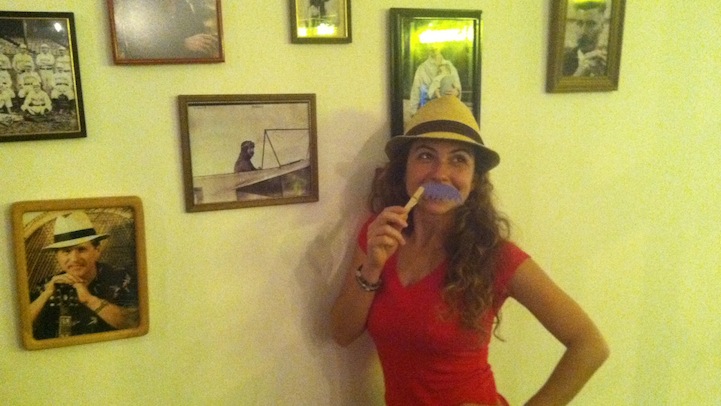 A good group of funny folks took a crowded room at Lester's bar and coffeehouse on a mustache ride Wednesday night. It's not as filthy as it sounds. Hosted by Jessica Gross, the Moustache Ride Comedy Show brought together some of Miami's most hilarious minds for an unforgettable performance that involved its share of heckling, jokes about Wynwood, and quality standup.
The diminutive comedian Lisa Corrao made the crowd giggle. She stands at 4 foot 10-and-a-half inches tall, making sure to note that the half inch counts. It's what keeps her from being a little person. Certainly Corrao has wit and humor that outsizes her small frame. Gross sees Corrao as funny and nerdy. She said of her colleague, "like super nerdy, attractive, and short like a little person, but big enough to rule the little people."
Originally from Long Island, Corrao grew up in Fort Lauderdale. She's been making jokes onstage for six years and is only just starting to feel like a professional. She used to work as a middle school teacher before quitting to perform full-time.
"I went to college at FAU, which is the same college that Carrot Top went to, actually. I didn't take the prop class that he took, though," she said.
Even though making people laugh is hard, Corrao doesn't regret leaving her day job. She believes, "It's a nice powerful feeling to have a microphone and be in control of a room of people."
A few years ago at the South Beach Comedy Festival, the famed funnyman Dave Attell took time out to watch her set. A year later, Attell's spotted her at his show, remembered her act, and asked her to open for him at a sold out show in Palm Beach five minutes before showtime. Talk about validation!
She enjoyed the intimacy of Lester's Moustache Ride. She also appreciated its "cool vibe ... And there's all cool people here." She said, "They're very open-minded too, so you can say things that maybe you can't get away with at a regular comedy club." And that these guys most definitely got away with it.
The Moustache Ride Comedy Show will continue to be inappropriate but heartily amusing next month at Lester's on August 10 at 8 p.m.