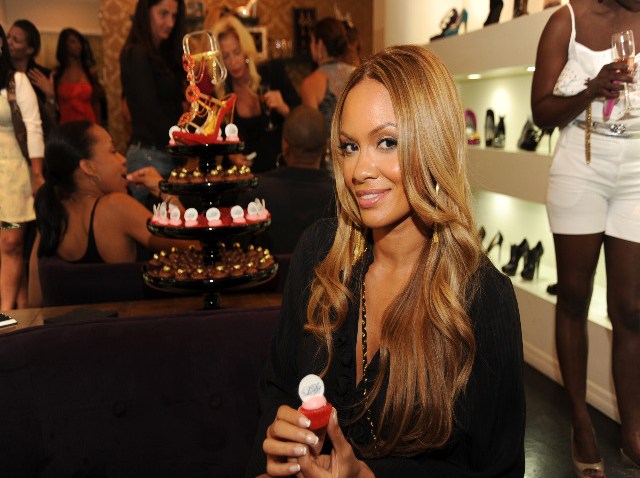 VH'1s "Basketball Wives" reality star Evelyn Lozada recently held a trunk show last Thursday at her co-owned Miracle Mile boutique, Dulce, to help promote designer Francesco Sacco's fall collection. We got to chat with the New York transplant about everything, from her ex-fiance, former Miami Heat star Antoine Walker, to how many pairs of shoes she owns. (Hint: It's more than a baker's dozen.)

You're originally from New York and moved to Miami in 2007. Why did you decide to make Miami your home and what do you like about it?
I moved here because of my ex fiance [Antoine Walker]. I feel like I'm on vacation all the time. It's very relaxing, I like the weather, the beach.

How did Dulce come about it?
Me and my business partner would actually travel to Miami a lot on girl trips and I always wanted to shop, [we] were talking and I said let's open up store. I like boutiques, I'd always drive by [Miracle Mile] and both of us have a great eye for shoes.

What are some of your favorite shoe brands?
Francesco Sacco, Alexander McQueen, Casadei and Christian Loubtin.
You're always dressed beautifully and rocking the best shoes. Can you tell us fashionistas how many pairs of shoes you own?
I have over 200 pairs of shoes. I've always been into shoes.

Speaking of shoes, what's it like to be in your shoes for a day?
Well, now my life is a little crazy. I have 9 more days of filming to go. Reality shows are time consuming. In between filming, I come to the store, I email and meet with clients and I have a daughter, too, so I have to juggle all those things.

I read that you got your start in entertainment by being an assistant to an entertainment lawyer. What's it like now to be a celebrity?
It feels great to be on the other side. It's a great accomplishment. [The entertainment lawyer I started working for] is the one who did my deals for the reality show.

Tell us about your favorite Basketball Wives episode.
My favorite episode is when I confronted my alleged stalker. For months I was being harassed and my daughter, too. My e-mails got hacked into and it was a few months of drama.

What's the best fashion advice you've ever gotten?
Always to match my bags to my shoes. My ex-fiance actually told me that.