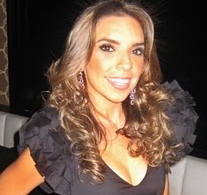 Earlier this fall,
Miami
's Ria beat out thousands of competitors and opened for
John Mayer
on his Battle Studies Tour. So is the famed lady's man as insatiable as the press would have us believe?
"Surprisingly, I couldn't tell you since I did not get to meet him," Ria told Niteside. "But I was given an incredible opportunity and I'm thankful for it."
That's about the only thing that hasn't worked out for the sultry singer lately. Ria celebrated the release of her debut album on Saturday at The Delano South Beach. And she's made herself quite at home in the Magic City.
"I could've chosen to stay in
Boston
or move to
L.A.
or New York," Ria said. "But Miami is a melting pot filled with loving, art-driven and flavorful people who work hard doing what they love. It has an increasingly larger respect for live music and the performing arts in general, which I love."
And with booming bureaus like Wynwood and the Design District helping Miami's art scene along, Ria says things will only get better.
"We all have to help each other out to become a better place. Understanding the needs of our community, not just those of our own, will allow us to grow and prosper more than we can imagine."
She added, "I look forward to being a part of that."
And for any new artist looking to follow her musical journey, she warns that it's not an easy path to take.
"It's dedication. It's perseverance. You don't stop, you keep on truckin'. More than anything though, it's fulfilling. You are the sole creator of everything you do. Nothing can beat that."