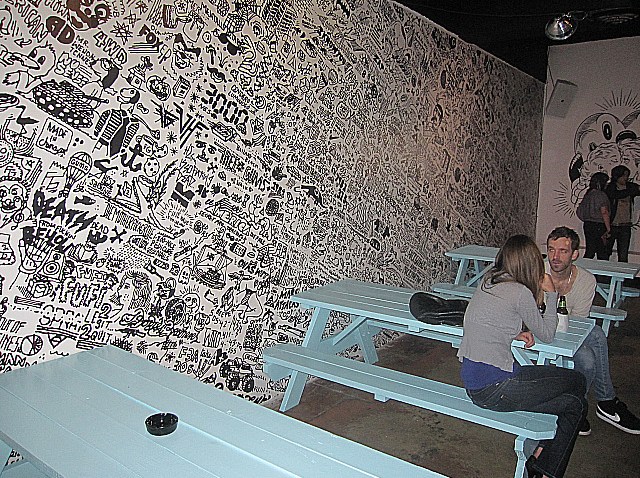 O.H.W.O.W. gallery co-founder Al Moran said he believes anything goes. Just don't call the newly minted neighborhood fixture where Design District vagabonds can draw, shoot pool or hang out a bar.
"I'm a gallerist, not a bar owner," Moran said.
Moran took a cue from Prince when he refused to name the former PS-14 space that was temporarily transformed into the famed NYC bar Max Fish during Art Basel. The establishment has no official name -- just a simple black bar that sits atop the door.
"We didn't name this place because people can call it whatever they want to," Moran said. "It is just a black bar, a symbol -- it aligns with the fact that anything goes here."
He vowed that no one would be turned away from this veritable half-way house for hipsters. Those who come in strapped for cash can write their names down in the bar's blackbook and take an IOU.
"I am not going to charge $15 a drink," he said. "I'm not into that. No one is going to make money off this place. It is more of a clubhouse for the crew of creative kids to get together."
A far cry from the childhood fort in your backyard, this "clubhouse" will have a new local artist designing its interior every 60 days. And if that's not enough free-range, music will be provided by whoever wants to spin their favorite tunes or lend their iPod for the night.
"We're not paying anyone to do anything -- if you want to contribute, contribute," Moran said. "This side of the bridge needed something like this."