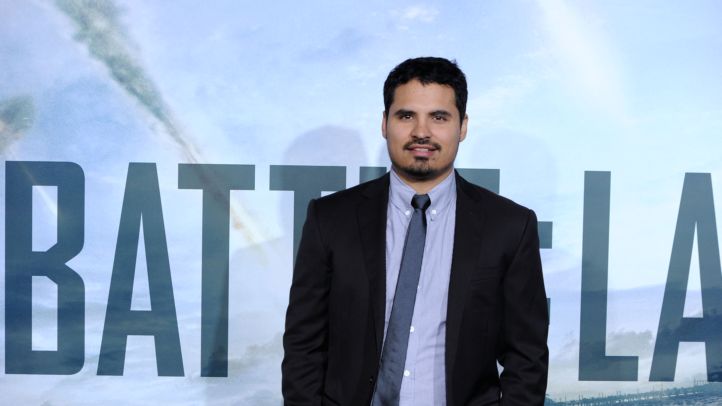 Actor Michael Pena shares the screen with Aaron Eckhart in Battle: Los Angeles, hitting theaters Friday, and is gearing up to do the same with Matthew McConaughey in The Lincoln Lawyer — but admits it was Oscar-wining Crash that will go down as his most memorable film to date.
"Crash was just, it was my first part, really," said Pena. "That's probably something that's going to die with me for the rest of my life. I want to do more movies like that."
Until then, Pena - who has also appeared in Million Dollar Baby and Observe and Report - says he does tap into his emotional side in his latest flick, Battle: Los Angeles, in which he plays a loving father who is protecting his son from the invading aliens. The actor recently became a father himself and admits this was a large reason why it was easier for him to relate in certain scenes.

"I read for other parts that were bigger, but my heart was in this one," he said. "While everyone else is being Rambo, I'm just me. I think that's different in a movie like this, it was so interesting to have those father-son moments on such a big stage."
And unlike the other cast members like Michelle Rodriquez, Aaron Eckhart and Ramon Rodriguez, Pena didn't have to suffer through the three-week bootcamp training lead by both active and retired Marines. But, he said he had no trouble handling any of the prop weapons in the film.
"I grew up in Chicago, man," he joked. "No, they didn't train me, I didn't go to the bootcamp -- I was spread eagle and tanning."

Although Pena admits that his relaxed, anti-Marine persona may have shone through a little too much in certain scenes.
"There were a lot of cameras everywhere, and there would be dailies when I'm not panicking and just busting jokes — it looks like I'm having a picnic when we're killing aliens," he laughed. "You always gotta be on in this one."


Sometimes it's okay to be a follower! Check us out @Nitesidemia.