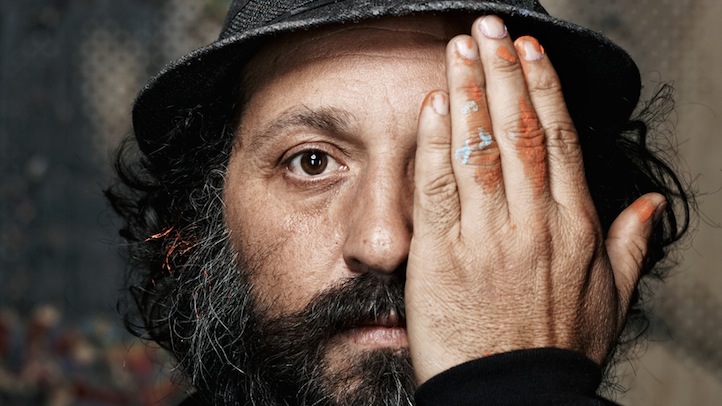 Mr. Brainwash tags the back of his works with the words "Life is beautiful."
Life certainly is for Thierry Guetta, AKA MBW, AKA Mr. Brainwash, the man who has become a famous street and gallery artist, showing his artwork all over the world, and now again on Miami Beach.
He often uses familiar characters, altering them to avoid copyright infringement, and creates large scale works to which people respond well. Last year, he brought Stormtroopers to the Boulan on Collins and 21 Street. Everyone driving or walking by caught a glimpse of his creation. The men in white are back again this year, and Guetta has also brought other new, yet familiar additions to the exhibition space.
We spoke with Guetta about Art Basel, and making work for people, not money.
NBC: How has this Basel been going for you? Have you gotten a good response from everyone in Miami?
Guetta: Yeah. I guess the people are very excited and happy. It's good to be in Miami. It's the time, if you're an artist or you want to show some art, it's the moment to do it at Art Basel. I believe that every year, it's getting bigger and bigger. It's not about just selling art, it's about a festival, a movement. There's like fun things happening day and night. A fun time to be in Miami.
Can you tell us about what you're showing here? There's a Mr. Potatohead outside that's really great. What's some of your favorite work you have up?
I like the Potatohead, I like the Stormtroopers, I like the two horses. I've been doing sculpture lately, it's kind of a fun thing to do. The Picasso with the heart. It's a fun journey to go through the show.
The Stormtroopers have kind of become part of our landscape here on South Beach, why'd you choose to show them? They're already kind of iconic characters, and now you've made them more so.
They are not real, but they are real in our minds. Everybody knows them. They are pop culture somewhere. There is something that is comic in a way, but real in the other way. It's kind of funny. I had to do something on the whole balcony of this building. I came up with the Stormtrooper because they like kind of keep the building for us, they watch, they are security. I thought it was kind of funny in an artistic way of showing it. This year I wanted to do something else, but the City of Miami wanted to know exactly what I was going to do outside, so I had to get the permit, so I decided to bring them back. I feel like it's great to have them back. It's like you said, now it's becoming part of Miami.
How do you feel about street art in general? Do you have any contemporaries whose work you favor?
I like everyone. I feel like everyone is trying and doing great work. I didn't have time really to walk around and see what people are doing, but you cannot miss it, because anywhere you drive in Miami, you see giant walls with great murals. I believe that it's great and I don't have just a favorite. I think everyone who does it, I like it.
How do you feel about humor in your own work?
In my work it's important. It's kind of fun. I just want people to smile.
What's up next for you?
I have to do a show in L.A. What I brought was for a show in L.A., but I decided to do it in Miami first. Normally, on the 18 of December, I rent a building that is 80,000 square feet.
Wow. You fill it up?
I'm going to do something. I donate 20,000 square feet to artists who want to come and do something. I'm going to do a lot of installations. It's not about selling, it's about having fun. That's why I do a lot of things. That's why when you do a Potatohead that big, you don't think like somebody's going to say, "Oh, can I buy it?" I'm just doing it, using my time, cause I think when you do a show, it's about doing a show. It's about people coming out and saying, "Wow that was great."