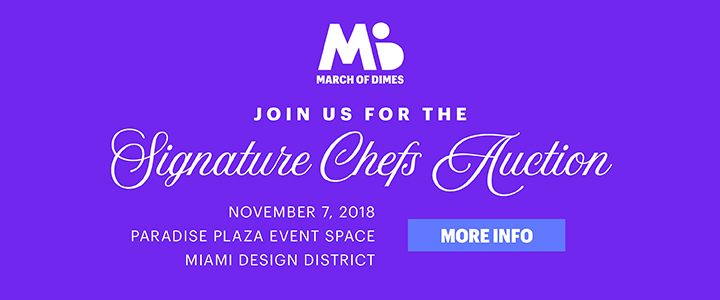 The March of Dimes Signature Chefs Auction presented by Goya® benefiting the March of Dimes is returning for its 21st star-studded year on Wednesday, November 7, 2018. One of the area's most popular food & wine fundraisers, the event will feature more than a dozen top local chefs as well as amazing wines, cocktails and auction items. The event, beginning at 6:30 p.m., will take place at the Paradise Plaza Event Space in the Miami Design District.
This year's stellar lineup includes Chef Karla Hoyos from The Bazaar by Jose Andres; Executive Chef Timon Balloo from Sugarcane; Executive Chef Clark Bowen from Boulud Sud; Chef Fernando Desa from Goya®; Chefs Michael Beltran & Justin Flit from Ariete; Chef Benjamin Murray from Pao; Corporate Executive Pastry Chef Jessica Scott from Barton G; Chef Horacio Rivadero from Plant Miami; Pastry Chef Max Santiago; as well as Azucar Ice Cream; Panther Coffee and Exquisito Chocolates and more!
The evening will include remarkable entertainment, a spirited live auction featuring many once-in-a-lifetime opportunities and a very special Fund the Mission.
Funds raised by Signature Chefs Auction help support research, lead programs and provide education and advocacy so that every baby can have the best possible start. Today, one in 10 babies in the United States is born premature, including one in 10 in Florida. March of Dimes is committed to working together to improve the health of every mom and baby.
For more information visit: Signature Chefs Auction Miami