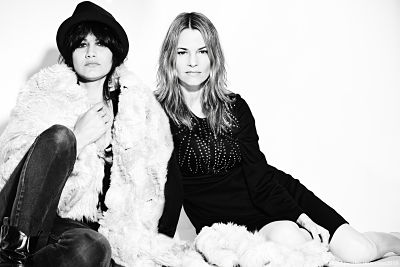 You may have heard one of the gals with Mellowdrome; the other with The Murmurs. You may have even caught the latter on Showtime's much-revered The L Word. But that was then and this is now, and now Camila Grey and Leisha Hailey are Uh Huh Her, one of the brightest, most affirming duos in the Now Pop cosmos. Niteside got with Grey before the gals' coming to Culture Room; here's what she had to share.

Between the two of you there's a kaleidoscopic past that includes everything from The Murmurs and Melissa Auf der Maur to Dr. Dre and The L Word. How strange has been the trip so far? Our musical pasts have been what have shaped this band, so I think everyone we've toured with has only made us better musicians. The different styles really round you out.

Aside from the single "Never the Same," your recently released Black and Blue EP is only available at your shows. Why did you decide to bypass the download? Originally we wanted to make the EP exclusive to shows because it was a promotional tool. We now have the EP available on iTunes as well as on our site in digital and physical formats.

Speaking of black and blue, do you find anything particularly alluring about a bruise? We think bruises are sexy. It's indicative of how fragile we all are.

What other marks do you find might possess something more than the obvious? We also dig scars.

To stretch a metaphor, your debut LP Common Reaction received high marks indeed. When will the world get to grade your second album Nocturnes? We plan on a summer 2011 release. We are getting our pre-sale ready as we write this.

Word is that long player will include a track that was featured in a very well-received flick. Care to explain? We believe you're speaking about the track "Same High" from The Kids are all Right. It was an honor to be a part of a culturally relevant movie with such a great cast and amazing director, and an epic soundtrack! We were just happy to be in the company of our heroes like David Bowie.

What other great good grooviness may we expect from Nocturnes? Just expect a lush deep rock record. We really went to great lengths to create the best ear candy for all of our listeners. Buy some Dre Beats headphones and you'll know what we're talking about.

Will you sneak peak any of this at Culture Room this Friday night? We'll be playing selections from all of our records, past, present and future at the Culture Room.

Before we let you go-go, you both do realize this Friday is the 13th, right? We never know what day it is, so thank you for letting us know. We'll be sure to watch the movie in honor of the day.
Uh Huh Her performs Friday, May 13 at Culture Room 3045 N Federal Highway Fort Lauderdale Doors open at 8pm. Tickets are $15. For more information call 954-564-1074