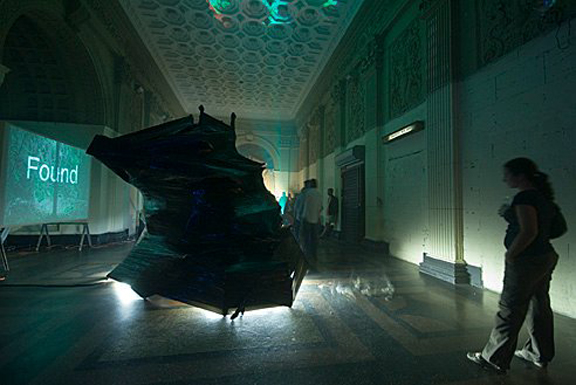 Wynwood is unquestionably the go-to spot for outside-the-box, be it in sound, word or vision. That's especially true in the wilds just west of Wynwood, at a compound known as Awarehouse. But there you'll not only find a cast who operate outside the box; you'll also find that most have done away with the box completely. Among those is an outfit called 3PQ, for whom sound, word and vision seem to be but springboards to the beyond.

For those who don't yet know, who (and what) is 3PQ? 3PQ is a collective whose core members are Sinisa Kukec, Stephan Tugrul and myself, Freddy Jouwayed. In 2006-7 3PQ was the moniker under which we presented events that encouraged participation from friends and colleagues, and where we explored ideas in video, sound, and open drawing. We tend to set dates with a loose set of ideas and then work towards the Ideas with whatever means at our disposal. In a way, the journey towards the idea (catharsis) is what matters most.

What about the meaning of the name 3PQ itself? The collaboration often extends to include other artists or participants or even open participation. Our initial projects centered around our former shared studios in North Miami, which were space P and space Q. We are at our core 3. In actuality the name is a derivative of Patience, Persistence, and Prudence. We were stuck at 3 Ps and then realized the spaces we occupied were P and Q, hence 3PQ.

What will you be up to this Second Saturday night at Awarehouse? The work is titled "LIFEBOAT MUTINY." Like 3PQ, it is possibly overlapping layers of perception, fears and stolen moments recombined in a united effort, blurring the line between the individual participants towards a collective organism. What remains is the physical memory of the collaborative exchange. What happens is a product of momentary interaction where words mean something only if they are drawn or expressed in a visual vernacular. To go beyond our means and bodies, 3PQ seeks to transport itself from a static landscape into a fluid, real time continuum, a sort of momentary bliss of genuine discovery and refusal. Lines erase, transverse or scale infinitely as pixels on a screen. (Thanks to Juan Maristany for that last sentence.)

Are there any other like minds on the bill? Yes, the like-minded Lifeboat mutineers -- our collaborators -- are Legion of Pigs (Juan Maristany, Edward Eden), as well as Nicole Martinez, Rodrigo Arcaya, Fsik HUVNX and Cat Dove.

Word is, the night also has a bold music component, care to fill us in? For the post-Artwalk hours event Dave Betamax and his [Smut & Bass] crew are launching "Keep Off the Lawn." It's an event focused on innovative beats and alternatives sounds for the dancefloor. Also, Sounduo, a post-dub audio/visual band will be performing live.

Sounds like quite a collision, what else have you got goin' on? In addition to our work with Dorsch Gallery, we've recently wrapped a different casting of "LIFEBOAT MUTINY" at Bridge Red Studios, and a collaboration with Fsik Huvn called "Let it Come Down" at The End. We've also got something coming up at The Wynwood Art Fair.

Is there an ideal place for 3PQ to ply their tradecraft? 3PQ's place "is" the journey towards the idea.

Before we go, if you had to sum up the entirety of 3PQ in a single sentence, what would it be? 3PQ is a collective of space, and time... born initially from the desire to find and share a forum to present and exchange Ideas.
3PQ's "LIFEBOAT MUTINY" with Legion of Pigs, Romulo Del Castillo, Nicole Martinez, Rodrigo Arcaya et al, plus "Keep Off the Lawn" with Dave Betamax, Sounduo, Sahar Berlin and Chalk Saturday September 10th 6pm-11pm (Art),11pm till close (Music) at Awarehouse 550 NW 29th Street Miami For more information log on here.