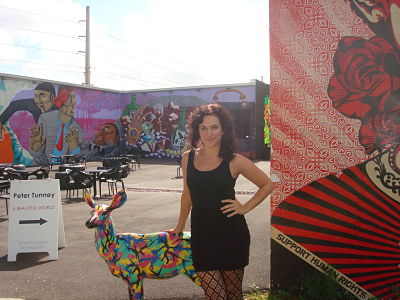 It's no surprise that both Wynwood Kitchen and Bar and its adjacent Walls are considered Ground Zero for all that happens in the 'hood, nor that it's owned by Tony Goldman. After all, he's the very same player who -- with his son -- opened the equally magnetic Joey's just down the block, not to mention made some of the first big moves on South Beach. It's no surprise either that there's a gal as groovy as Jenni Wagoner helping to run Wynwood Kitchen. How else could the "hot" be put in hotspot? Niteside sidled up for a quick get-with.

Would you please tell us a bit about Wynwood Kitchen and Bar? Wynwood Kitchen and Bar is a playground for the senses. You get pulled into these massive pieces of art and great conversation while enjoying a meal among friends. The vibe is fresh and new, yet comfortable. The idea of having dinner in the middle of an art park is pretty sweet.

Didn't Fairey also do one of the adjacent Wynwood Walls? He did, indeed. I think everyone knows someone who has posted a picture of themselves in front of it. It's a perpetual photo-op backdrop. And for good reason.

Who else is featured on the Walls? Kenny Scharf and Futura out of New York, Aiko, AVAF. I personally love Brazilian artists Os Gemeos and Nunca. Ron English has a really cool piece toward the back of the walls. There are a lot of different styles represented. Lots to look at.

Must be nice having such an illustrious backyard, no? It's amazing to see the community that is developing here in Wynwood. Artists, admirers, creative thinkers... they all sit in our backyard to make plans over good beer. There are many people from around the area that started out as guests and are now part of the family here. I love having that kind of energy floating around. That creative, positive energy.

Speaking of the art crowd, hasn't spending Second Saturdays at Wynwood Kitchen become a sorta ritual for anyone involved in Miami's art scene? It's definitely a scene. Familiar faces everywhere, wine flowing, people having a great time. At some point during the evening, everyone passes through for a drink or a bite and to see who else is hanging around. It makes for fabulous people watching.

What other regular events do you have running right now? Right now we have live jazz on Friday evenings, which has been a great way to get people together to relax out in the back with some good music. Once a month we host Musing with Myra, which is a great little gathering of writers, artists, thinkers. We have some more things in the works that you'll hear about soon.

Of those special events you mentioned, could you please cite a few of the more noteworthy? We've hosted a lot of great events since we opened. Bruce Weber and Vanity Fair, Florida Grand Opera, Ducati. There are always events being planned, which keeps things exciting.

Before we go-go, if you had to sum up the Wynwood scene in one sentence, what would it be? Wynwood = awesome.