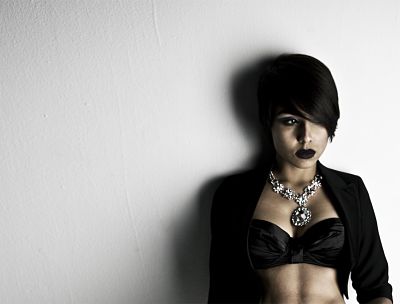 You may know the Karachi-born hipstress from her aiding and abetting the Overthrow gang, that rag-tag band of merry lunatics who invade different venues around town and turn them into something out of this wild world. But ganging up on the night is only part of what Aban Sonia Talks is all about -- the rest is as mad and as rad as imagination can go and not get locked up.

Graphic design, art direction, wardrobe stylist, and all around imagist -- you seem to be a Jane-of-All-Cool-Trades. When folks ask what you do though, what do you tell them? It's interesting because I sometimes have trouble trying to convey what it is that I do exactly. People are so used to having one, maybe two, jobs or gigs to keep them busy. Throw in some school or a social life and things can really get challenging. So I can understand why it wouldn't make sense when I'd try to explain being a wardrobe stylist, costumer, set designer, graphic artist, art director, model and a freelance writer of rants while maintaining a social and love life.
So, in short, I say I'm a visual, concept artist and producer. You give me an idea or a fantasy and I'll make it tangible. I work with an amazing team of set designers, costumers, makeup and hair stylists, photographers/videographers, retouchers and production studios in Miami, New York and LA. I live for versatility, so I really like being involved in every aspect of production and the visual and performing arts. It keeps life interesting.

Is there one discipline where you feel most comfortable? If it's regarding imagery or music, I feel comfortable giving my two cents and getting involved. I really enjoy fashion -- it fulfills some sort of childhood fantasy playing dress up. In the same way I love film, because it offers a sense of escapism and make believe at work everyday. I get to create real-life characters and interact with them. I make ideas come to life and being a part of that transformation is really exciting and inspiring for me.

If what you did could be summed up in a song what would it be? Iggy Pop. "Gimme Danger."

If you had to name one single most inspiring thing or person in your life and your work, what or who would it be? My mother and brothers -- they're pretty bada--. But in the sweetest, kindest way possible. They're the reason I have such an eclectic taste for life. They, along with my grandmother and boyfriend [DJ Damaged Goods], have always encouraged me to not shy away from not doing the norm, inspiring me to be a divergent thinker and learner resulting in my interests in a little bit of everything interesting. I couldn't stick with just one. Sorry.

I know you're involved with Lex Mincolla and the Overthrow gang. How'd you get involved with the crew and what's your role? The Overthrow came together sort of whimsically -- we all fulfilled an equal part of some equation. And here we are, a creative collective team in a Castle. The Overthrow is an orgy of imaginative creatures like DJs/producers, photographers, graphic artists, event producers that offer brand creation and validation. My part is making it all tangible. So you can touch, feel, smell and taste our ideas. We conceptualize; then create. Everything from sacrificial sets for live performances, art shows and concerts to full-on installations at the famed Aqua Art Gallery for Miami's Art Basel. In short, we're a team of super villains.
Check back for Part II of Sonia's interview later today.