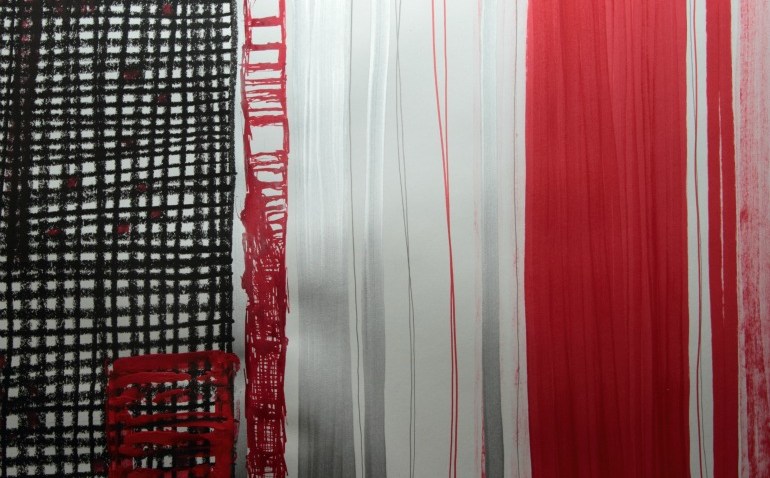 To say that Ahol Sniffs Glue is the most ubiquitous presence on the Miami streets might be a bit of hyperbole, but it wouldn't be by much. His stickers and eyeballs and various other poppin' pieces of iconography have been seen all over the 305, from Perrine to the Dade/Broward county line. Now the man who's made a sight of what we see reveals some of his deep and twisted roots. The show's called "Full-Time" and it opens Friday at (and coincident with) the brand new Mercenary Square.

Wanna tell us a quick bit about "Full-Time"? "Full-Time" is the title of my upcoming solo at Mercenary Square. It's a show fueled by my life's daily grinds. It all riffs on working nonstop and in a cubicle since the age of 18 chasing funds to have fun. Rather than putting reality on the back burner, I'm embracing my most time consuming and most draining influences and using them to fuel my creativity.

Will this be an Ahol we've never seen before? This work has never been seen before but it's both introspective and outward focused so viewers will experience a side of me that might surprise some. I have been exposed to these influences for a long time, but only until now have I put it through the ringer and exposed it. You definitely will not expect what you will be getting.

Have you completely abandoned the eyeballs and stickers that have made Ahol so ubiquitous? I will never abandon the stickers or eyeballs. I will always have stickers and markers in my pockets. However, there is a time and a place for everything. And even where there is no time, I have always made time. So while the eyeballs have been getting a little bloodshot from punching the clock, I'm just giving them a rest -- not retiring them.

Speaking of new angles, won't you also be unveiling some kinda collaborative effort? This show has been a great opportunity for me. I have been able to collaborate with some very talented old friends of mine and dug into the future on some fronts. I will be working with Julian Yuri Rodriguez on a video installation melting your soul with temptation and persuasion. I will also be unveiling some 3-D sculptural work in collaboration with my good friend Werner Blumenthal bringing some of my telephone encounters to life. Technology will definitely be a part of this exhibition.

Why'd you decide to show "Full-Time" at Mercenary Square anyway? I've known Carlos Suarez De Jesus for quite some time and he has been showing me and my work nothing but love. He has dropped a lot of knowledge onto me through the years and I am grateful for the opportunity he is giving me and my new work. I love Wynwood and Downtown with all my heart, but Little Havana, where Carlos' new joint is located, will be ground zero for "Full-Time". Little Havana has amazing energy and a scene of its own and my show will be opening along with other exhibits that night such as at the 6th Street Container that has lately been generating mad hype in the same complex. I can only hope I can do my part to bring the noise to SW 12th Ave and 6th Street. We are also having music provided by Otto Von Bass Warrior, Mr. Feathers and Jose Blue Jeans during the opening that's sponsored by Don Abuelo Rum from Panama and an After Party at The Vagabond so everyone's invited.

Any other Ahol info we need to know before you go-go? This show is very special to me. The same way it was fueled by my daily struggles with the corporate world, there are several people responsible for this chapter of my life. I am thankful for the good as much as I am for the bad. I'm ready for this. DO YOUR JOB. STAY SHI--Y KREW.

"Ahol: Full-Time," Friday February 17th from 7:00 to 11:00 p.m. at Mercenary Square, 537 SW 12th Avenue, Miami. Call 305-710-7642 or visit aholsniffsglue.com.