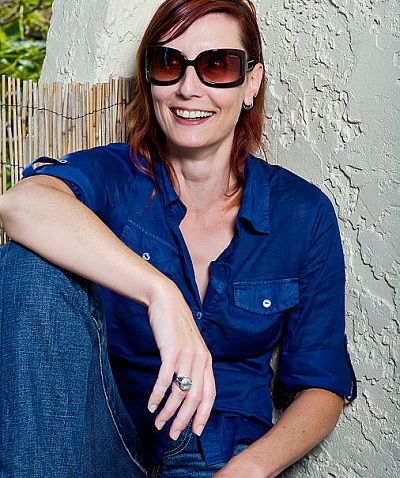 Miami being the melting pot that it is, we're blessed with one of the most keen and colorful collection of characters in the wild world. Among the latest to hit our fair shores is one Alice Raymond, a tres fab French artist who ditched Sweden for the Magic City. Our town hasn't been the same since. Tonight, at the Alliance Francaise' Galerie Carré Rouge, Raymond marks her Miami art world debut. The show is called "Together." And this hip chick has it all together in more ways than we can even count.

You're an ex-pat in a city of ex-pats from all over the world. What do you think it is about Miami that attracts such an array of people? Well, it is borders and laws that say that I am an ex-pat. I feel home where I live. For others, I don't know, maybe "Sea, sex and sun / Le soleil au zenith /Me surexcitent / Tes p'tits seins de Bakélite / Qui s'agitent"? (Serge Gainsbourg)

What attracted you specifically to our town? When I received an offer to come in Miami, I laughed in front of my computer! What should I go to a town that has such a superficial image? That became my reason to come: I wanted to see what is behind the set.

How would you rate Miami among other world class cities anyway? Five stars! I expected to find some contrast here. In that field, I am spoiled. I have been dropped from the airport in a hotel on South Beach. I have been wandering in the streets for three days, to catch the atmosphere of my new environment. The first people I had conversations with were the valet of the hotel ... and a homeless guy asking for cigarettes and money to buy soups. He got in the fight some days before and had all his teeth crushed.

Now that you've been here for a spell, do you plan on staying a good while? Yes! Surprisingly, Miami is a great town to work [in]. The light is nice and regular all year long. ... The foliage and the mix culture, with its good weight of unbelievable stories, are a nourishing source of inspiration for me. I met gorgeous people here in very different fields.

Speaking of action, your first Miami show "Together" opens at the Alliance Francaise today. Can you please tell us a bit about it? I am interested in the relation between individual backgrounds and location of living, environment. I like the layers we all have as persons -- as much as the ones you can observe in nature. Both carry a lot from the past, using it as a ground to grow and keep on going. I choose to live in Little Haiti and there the Caribbean culture became a perfect backdrop for my work. Working together on getting things together is to me the only way to keep on going. As a place of exchange and culture, the Alliance Française sounded to me a good location for my first Miami show.

You're also a photographer and an illustrator. Is there one form of visual art that you feel most comfortable in? A medium is not a goal for me. I use the one that fits the best to my ideas or situation. Since I feel a bit nomad, paper is a great material for me. It's light, soft and it's akin to the fragility of your roots as something you have to preserve. When I travel, I have sketchbooks for documentation and special grey paper drawing books where I draw odd characters in strange and distinctive situations. They tell universal stories, totally independent of where I am. I use photographs to show how I perceive moving and transfers. All those mediums are part of how I see the world. I need all of them to feel comfortable.

I see a little of artist Cy Twombly in some of your recent work. Is he an influence? I love Cy Twombly's work! It looks light and easy, but tell a lot about the tangle of life. Around me, I feel too Peter Doig, Mark Rothko and also fairy tales, comics and Renaissance art, for predellas and the polyptych, as the previous concept of series in contemporary art.

Besides other artists, where else do you draw some of your inspiration? In daily life: people's stories, as an echo to mine and any other human being; in landscapes and surprising plants in botanical gardens; in daily adaptation to new situations, feelings of anger or absence.

Word is you also teach children in Little Haiti. What's that like and how did it come about? It is fun! The issue of culture, origin, and language, regarding to the place of living is part of my personal life. The wish of both Haitian parents and French authorities to pass a linguistic knowledge headed me teaching and organizing cultural sessions in Little Haiti. Regarding to history, the link between Haitian and French cultures is significant and it is very enriching to wonder about.

When you're not holed up in your studio, where do you most like to hang out? In the neighborhood biking to Buena Vista Bakery, for an outside expresso-croissant-book-cigarette ... or their neighbors Lemoni, stopping eventually at Sweat Records, a pearl in Miami. Drop by a botanica for an exotic visit and talk. Grab food at the Fish Corner, at the nameless Cuban cafeteria for standing workers on 66th & Biscayne, Metro or Café Mimo to eat outside, Anise by the river. Then later to Churchill's, for various live music, with a great punk rock smell. For a longer trip I'll go to Tap-Tap, via the gorgeous Venetian Causeway, of course!