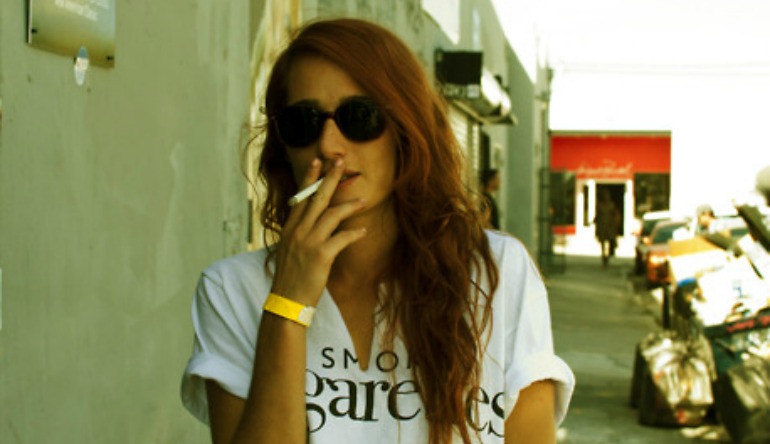 She co-runs one of the hottest art spots in a 'hood filled with hot art spots. She's keen, she's confident and she's got the kinda bright ideas that bring cool things to life. She's Allyson Parker, chick-in-charge at The Hangar, and in just a few short months she's done more for Wynwood that we can even fathom. Niteside decided to shake her down in advance of this week's Art Walk.

Who the hell is Allyson Parker? That's a fantastic question. Allyson's just a girl from NY doing her thang down in sunny Florida. Trying to make her mark. Right now part of that mark is being made at The Hangar.

What exactly is The Hangar? The Hangar is an Arts Initiative based in Wynwood, run by me and Hector Garcia. We host group exhibitions, events and workshops for artists of all disciplines dedicated to the collective movement of creative exhibition.

In what way does it differ from traditional art spaces? Most established galleries focus on the exclusive exhibition of a limited roster of artists. For us, it's less about the tangible product of an art work and more about the experience created when you open the lines of communication between artist, patron and community.

How does all that factor into this Second Saturday? This Art Walk we're just trying to focus on our newest installation. We have about a dozen new local artists (aka "members") that have some really interesting work so I'm just trying to focus on creating a cohesive group show in the main gallery... while all that's going on, we'll also be hosting SOLE Bike's Pop Up Shop in our workshop.

So there will be more goin' on than what's on the walls? There's always more going on than what's on the walls (that's sort of our M.O.), but we'll see what exactly that means come Saturday. The SOLE Boys are hosting a bike "Trick-Off" so I imagine that'll be pretty interesting.

How (and why) did you come to be involved anyway? I launched an Independent Art House in NY (FerroVitreous Arts Inc) that has been the stepping stone for all this. My concept was always to create a "creative incubator" for contemporary Artists but that's a much larger undertaking in NY that i lacked both the man power and resources for. The Hangar is combining my experience in NY with the emerging cultural scene happening in Wynwood.

That mean Miami's gonna get to have you stick around awhile? Looks that way.

The Hangar is located at 2235 NW 2nd Ave Wynwood. For more information log on here.