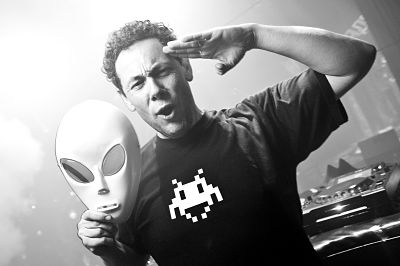 This weekend one of the biggest nightclub names in the whole wild world returns to Miami, and there's not a dance fan in all of South Florida who isn't giddy with glee. Yes, we're talkin' about Ibiza's legendary Amnesia, where the throngs have been at it for decades. But our town's branch won't be some simple island offshoot; in fact, it promises to out-wow the original. Superstar French DJ Joachim Garraud explains.

This weekend marks the Miami return of the legendary Amnesia -- wanna tell us a bit about it? Yes, Amnesia Miami will be having its grand opening this weekend. On Friday night, Bob Sinclar will be kicking things off and I'll be bringing my new live Invasion set that I designed specifically for this event on Saturday night. Should be a great weekend!

Will Saturday's spin be the first in a series if regular appearances? Saturday will be the launch of my Amnesia residency. Other than the show this weekend, I'll be back one more time in December and then two or three more times within the next year.

Word is spinning isn't the only part you're playing in the venue -- care to fill us in? Sure! Amnesia Miami is home to a one-of-a-kind, custom LED system that I designed for the new venue. Amnesia has five big LED panels, three are moving and the other two are fixed. Amnesia will be the only club in the US with this state-of-the-art technology. I also have designed graphics for the Invasion set that I'll be playing on Saturday, and the moving LED panels create amazing visual illusions that you have to see to believe!

Didn't you also help design an in-house recording studio? Yes, this was an idea that I was very much behind. Having a recording studio inside of Amnesia will be a fantastic feature that I hope artists playing there will take advantage of. If artists get into town a day early or early in the day that they play, they can come in to Amnesia and work on music in a fantastic studio with everything provided for them. It's the extra features like these at Amnesia that will really set it apart from other clubs in Miami.

All-in-all, what can dance fans expect at the new Amnesia? For those who have been to any other Amnesia nightclubs, they know that the Amnesia brand has always been all about good music and a great overall club experience. With the LED system and great sound in the new venue, dance fans will experience a sensory overload that they might not get in other Miami clubs. They'll have to come out and see for themselves!

Amnesia opens this weekend. For more information log on here.