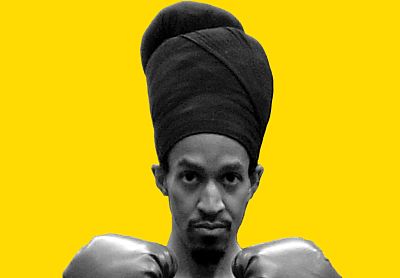 Race may be the Final Frontier for us here on Earth, but we still seem to need the equivalent of rocket ships to get there. With visualists as visionary as André Leon Gray sighting the way however, there may soon come a day when we can all see the light on our own. Until then let's at least rejoice in the exploration. At Carol Jazzar Gallery this Friday night, that means liberation.

Who's André Leon Gray and how will he wow us? I am an advocate for social change and spiritual growth in mind, body and soul; born and raised in Raleigh, North Carolina. The title of my show is liberation, where as a visual activist, I question and examine the impact of history and present conditions that influence current social trends, self-identity, Western standards of beauty and the quality of life. I am interested in creating a thought-provoking experience and to encourage a dialogue using assemblages, installations, collages and tar paintings in a result I call "eye gumbo." Eye gumbo is a visual meal for the mind, thickened with a roux of black culture, marinated in social commentary and seasoned with consciousness.

Seems quite bold, so why the lower case "l" in the show's title? Aesthetically, it's pleasing to the eyes and the feel is more approachable and informal, despite the implication of the title and the thought-provoking content of the show.

Will this be you're first time exhibiting in Miami? No, actually this is my first solo show in Miami. In March, I was included in the group show, spillage: traces, evidence and presence, curated by William Cordova, which was also at Carol Jazzar. As a result, I received some good feedback and love from the Miami art community. I've been here since mid-September working on this show while at the Fountainhead Residency.

How'd Fountainhead come about (and does it have anything to do with Ayn Rand)? During one of my trips to Miami this year, I went to an open house there and met the foundress, Kathryn Mikesell. The vibe was cool and the artists liked the experience. There was a last minute opening available in September right before my November show. It was great timing. As far as the mystery surrounding the name -- names usually have a significant meaning and are not used by accident.

Did spillage lead to you showing at Carol Jazzar Gallery? Yes, I met Carol Jazzar through William Cordova at the spillage show. I came to Miami for the opening reception and showed her my portfolio of work. She became an enthusiastic supporter of my vision, which led to the November show before the residency was even a possibility. Actually, Carol was the one who introduced me to Kathryn. She's been great at introducing me to the Miami art community.

If you had to sum up liberation in a single sentence, what would it be? liberation is the self-determination to improve one's life from a journey of struggle and ignorance to empowerment and enlightenment.

André Leon Gray's liberation opens Friday November 4 at Carol Jazzar Gallery. For more information log on here.