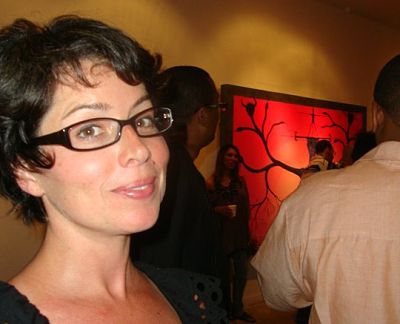 Insiders don't get any more inside than Annie Hollingsworth, who seems to know art like the proverbial back of her hand. This weekend, at Dorsch Gallery, you'll see evidence of that knowing with Noise Field. Niteside got with Miami's ultimate art op and asked for the lowdown.

Would you please tell us a bit about Noise Field? Noise Field is a group exhibition opening this Friday June 10th at Dorsch Gallery. The show loosely revolves around language, and the space of consciousness where meaning is formed.

Who are some of the participating artists? The artists are all so great, I have to mention each of them. From New York we have Martin Murphy and Raphael Lyon, both fantastic multi-dimensional artists, along with Kylin O'Brien who brings her Monster Project to Miami. Some fabulous local artists are included as well: Odalis Valdivieso, Antonia Wright and Ruben Millares, working in video and photography. And from across the ocean we have London-based Sam Winston, who I found at the Fountainhead residency on a tip from Tyler Emerson-Dorsch, one of the gallery directors. He works with books, text and language structures.

How'd you decide which works to include? I started with some friends from New York whose work I wanted to show in Miami, and as I later approached other artists I admire, I found that they were working with similar themes and the fit was natural. It was a fairly intuitive and organic process. In the end, themes and relationships emerged that I had not anticipated, which was a great surprise.

You do more than curate wham bang shows at Dorsch though, don't you? Yes I do, I have always been a dancer, from the time I was four years old, and dance continues to be a huge part of my life. My passion is Haitian folklore, a group of traditional dances from Haiti that represent the country's multiple cultural roots. I'm also a big fan of Afro-Cuban dance, and sometimes perform in that style as well. My next big performance will be at the Wynwood Art Fair in October, featuring collaborative choreographies by myself, Ann Mazzocca (a NY-based choreographer) and Brice Charles, one of my dance partners.

What first drew you to Haitian folklore anyway? I stumbled upon Haitian dance at the legendary Djoniba Dance and Drum Center in New York. They had classes in just about every African-influenced style you can think of. When I heard the drums and learned the meanings of the steps, I fell in love instantly. Haitian dance isn't just movement, it is part of a complex belief system It is a language without words that I understood, despite the fact that I am American, and it has taught me a lot over the years.

Word is you're also something of a wordslinger - that so? I regularly write about dance and visual art for a number of different publications, including Art Papers, artlurker, artburstmiami, Miami New Times and the SunPost.

Don't you do some kinda teaching too? I often hold dance classes and I teach therapeutic yoga once a week.

Wow! How do you find time for all these disciplines? I ask myself that same question all the time! But actually I have found a way to incorporate them all together within writing, which is why I have made that my primary profession. Everything I observe, love and have learned about in my life eventually finds its way into an article, even random facts that I have picked up along the way. I'm also able to pull together multiple fields of interest for curatorial projects like Noise Field.

When you do get some down time, where in town do you like to unwind? I spend a lot of time at Buena Vista Deli, and I also love Lester's in Wynwood. Both have a chill neighborhood vibe. And always, I am dancing. Classes, rehearsals, I enjoy it all even when I am working, technically speaking.

Noise Field opens Friday June 10 6-10 p.m. at Dorsch Gallery 151 NW 24th Street Wynwood. For more information call (305) 576-1278 or log on here.