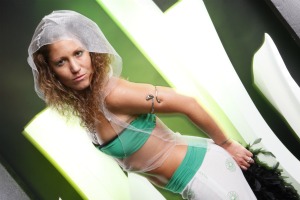 It's that high time of the year again, the time when the whole electronically-connected world syncs up through beat and energy. Yes, we mean Earth Dance, which will link 350 locations in 80 countries this Saturday night. Earth Dance Miami will take place at 7th Circuit Studios and feature an array of delightful and dizzying diversions. Singer Niki Em (one of those slated to play) explains:

Wanna tell us a bit about Saturday's Earth Dance? Earth Dance - slogan: "Dance for Peace" - is a global event held simultaneously at several hundred locations worldwide from places like Cape Town, SA to Den Haag, Holland, Ireland to Brazil. The goal is to have as many people as possible worldwide enjoying life, emitting/transmitting positive, happy and peaceful energy; dancing -- all connected through the Internet and a synchronized global peace prayer.

Will this be the first Miami Earth Dance? This is not the first Earth Dance in Miami by any means, I went to my first one in 2005 and am pretty sure it was not the first one in Miami. My personal first Earth Dance was in 1999, at the Brixton Academy venue in London. I got to meet the Dali Lama and listen to my favorite electronic producers and band: Hallucinogen and Banco de Gaya.

Who's on the Miami bill? There's a line up of almost 100 musicians, bands, DJs, artists and performers, including Steven Halpern, Elastic Bond, Beat Machines featuring Tony and Cuci from AfroBeta, Sounduo and DEZ, as well as me, Niki Em and Proyect RAGATronic.

It's more than just music-makers, isn't it? Yes, there are also fire dancers, hula girls, projections, workshops for those interested in yoga, sound healing, etc, eclectic spaces, an indoor gallery and several areas for relaxation, healing and feeling good.

All in all, what should folks expect this Saturday? All in all people should expect to experience a conscious event that surpasses anything they have ever been a part of in South Florida... and they should expect to dance and have tonz of fun with friends and loved ones!!!

Earth Dance Miami Saturday September 24, 10:30am-4am 7th Circuit Studios 228 NE 59th St Miami. For more information log on here.