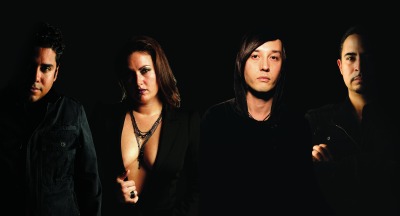 Whether or not Astari Nite initially set out to release their latest EP coincident with Memorial Day is anybody's guess. What's clear is that Miami's favorite modern alt-Goth rockers will be bringing it to The Stage this Saturday night. Since the sparkling slab of new now sounds happens to be called Requiem Mass though, Niteside decided it'd be worth investigating either way.

Wanna tell us a bit about the new EP? It's a four-song EP called Requiem Mass, which was recorded at a unique little place in Aventura. A mastermind by the name of Josh Rohe acted as the recording and mixing engineer; he is also the owner of the studio where we challenged ourselves at every turn. It'll be available this Saturday at our EP release affair being held at The Stage, Sometime in June maybe a little sooner, it will also be available on iTunes, Amazon, local record shops etc.

Did you crib the name from Mozart or from John Dufresne? Actually, neither. Albert Grey, the guitar player for Astari Nite, actually showed me a picture with some literature in regards to the name Requiem Mass. It was a black and white and had many people who seemed to be sad and happy in a church; it felt right and looked a bit scary. I enjoy things of that nature.

Have you ever actually been to Requiem, Mass(achusetts)? I have not as of yet, however a witch hunt seems to be in my near future very soon.

Have you read the book (or Dufresne)? I have not read that, but I feel comfortable enough to inform you that I read Frankenstein and Charlotte's Web often; sometimes I can be seen with a Batman comic book as well.

What about Mozart's same-named masterpiece? Have you heard it? I think I'm dreaming again.

Will this Saturday's show be the first time you've test-driven the new tracks before a live audience? In late February Astari Nite set out for an East Coast tour; it was then when we got a chance to play the songs on the Requiem Mass EP. The response was overwhelming, so that in itself was breathtaking. When we came back to Miami a meeting was set with SESEC, they took notice of our music and became our publishing label. It's been four months since we performed in the new Miami. So now we'll finally get to play those songs to our local scene.

What other songs might we look forward to hearing Saturday night? We do have a selection ready for the evening, wouldn't want to give away the mystery. I will tell you Astari Nite will perform "True Romance," being that during our last interview you stated you enjoyed it.

Anybody else on the bill with you? An angelic duo named The State Of will be our special guest that night. To have such monumental musicians such as Steph & Nabedi perform with us is a respectful accomplishment. Performing that night as well are three well known DJs on the local scene -- Al B. Rotten (SpiderPussy/Black Division), Chico Biscayne (Eve/Vlada) and DJ Vulgurth (Rockshop/PS14). They are all my friends not just faces.

Word is you're doing this show in collaboration with Wasabi Fashion Kult. That so? It is. I needed some guidance for this event and Pamela and Flor Frances came to mind. They made me feel calm and enlightened me with some ideas that would simply help. They're both wonderful and I'm glad I found a pair of new friends. I believe you will also see Astari Nite and Wasabi Fashion Kult collaborate in the near future for something beautiful and true.

Why did you decide to debut Requiem at The Stage anyway? Recently I got a chance to see a performance at The Stage, the décor, sound and energy caught me by surprise. Everyone enjoys the element of surprise; makes for a perfect night.

Astari Nite plays May 28th at The Stage 170 NE 38th Street Miami. Doors open at 9 p.m.