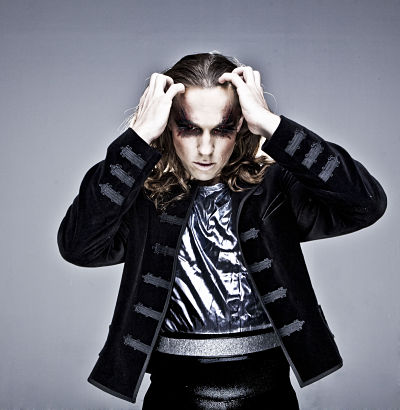 To say that Panic Bomber is the Next Big Thing to come outta Miami is to say what smart Miami folks have already been saying for some time. In fact, last year the post-Disco, neo-Glam superstar-to-be racked up enough "Bests" to beat just about everybody in town. But when you've created a cosmos that gets the whole city swingin,' you don't need to compete; you just need to be. And Panic Bomber is. Period. Hit Awarehouse Saturday night to see what we mean. It may be the last chance you get to catch the blasting magic before the whole wild world catches on.

Saturday night you're staging at one of Miami's most singular venues, wanna tell us about it? Yeah, I'm playing at Awarehouse, which is an art/performance space in Wynwood. I've done a DJ set there before, but have never played live. The Pinker Tones from Spain are also on the bill.

We're guessing this is gonna be a full stage show, right? Indeed. I'll be joined by most of my band on this gig -- Andy Panayides on trumpet, Tyler Burchfield on saxophone, and Madam Asuka on flute and additional vocals.

Since you famously went solo because of Miami's dearth of live music opportunities (and its fickleness with live music in general), are you pleased to be given the chance to embellish your sound with sidemen? I like to keep Panic Bomber performances flexible. I just did a series of live shows up in Canada as a solo act, but I love having my band join me whenever possible, it really makes things intense.

What do you think about what's goin' down at Awarehouse anyway? It seems nice, haha. No, really. I don't go out very often, but I get the impression they're consistently pushing the envelope with ambitious "happenings" beyond the club night experience so common to Miami.

Do you see Miami's live music scene beginning to burgeon? I see this type of discussion pop up often, and it seems to imply a hopefulness or expectancy that Miami will somehow become the next "it" city with bands blowing up nationally left and right, ala Seattle in the early nineties or Brooklyn in the early 2000's. I don't think that kind of attention is a necessary in order to have a healthy music scene. Besides, Miami's cultural footprint is already much larger than its population when you compare it to dozens of other US cities, which doesn't really leave a whole lot to complain about.

Speaking of live, where else will you be staging over the next month or so? I'll be going back up to Canada to play my label, YYZ Records' showcase at Canadian Music Week, followed by SXSW to play my booking agency, Madison House's showcase there, then immediately return to Miami to play some Ultra week events. "March Madness" is a term more applicable to the music industry than to basketball!

Didn't you also recently take a spin on Ultra Radio? Yeah! They invited me to do a guest DJ set for their Sirius/XM station, so I kept it eclectic and put in a bunch of unreleased stuff I've done. It's up on my Soundcloud account for fans to download for free (http://soundcloud.com/panicbomber)

When you do DJ, do you put Panic Bomber in rotation? I do spin some of my tracks in my DJ sets, but I try to keep it diverse while maintaining a pulse. I created a second Twitter account which automatically tweets all the tracks I spin live so people can follow along and discover new music. http://twitter.com/PanicBomberDJ

Which track(s) off your Discipline EP seem to get the crowd steppin' the liveliest? The title track is quite the noisy banger, people tend to respond well to it.

What other artists and/or tracks are making dancefloors quake these days? As far as dance music, I've been listening to Total F-cking Pizza Party, Jeremy Glenn, and Surgeon.

It's been a minute since Discipline hit, but word is you've got an instrumental EP set to rack in March. Wanna fill us in? I've actually written quite a lot of material since Discipline but recording sessions and details keep getting pushed back. I was originally going to wait and do one full LP, but in the interest of efficiency, I've decided to put some instrumentals on the fast track and release them as the Domestic Violins EP. It's more groove, dance based than my other "song" works that audiences are familiar with, which is something I've been wanting to try out for a while, it's a really fun, different approach to music that's fairly fresh to me. We're currently talking to different labels about the release.

Isn't there also a full Panic Bomber LP slated for summer? Yeah, it's called Captive Audience, and it will return to more of the song-based material while incorporating my new techniques I've learned while producing Domestic Violins. I keep busy ghost-producing for some artists, doing remixes that will be trickling out here and there, and working on a conceptual EP that, well, I'll keep close to my chest for now.

Panic Bomber plays Saturday February 19 at Awarehouse 550 NW 29th Street West of Wynwood Also on the bill The Pinker Tones and Mr. Pauer.