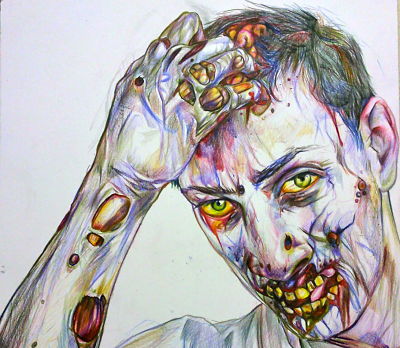 The cool kids won't be waiting till Monday to celebrate Halloween -- they're gonna start on Saturday night. When they do you can bet it'll be at Awarehouse. where Sketchy Miami will be hosting a very Sketchy Halloween Party. Niteside asked Jordan Melnick (who with Robby Campbell is one half of both Sketchy and Beached Miami) to fill us in.

For those few who don't yet know, what's Sketchy Miami? Sketchy Miami is a way to bring local artists and John Q. Public together through portraiture. We do that online, and we do it in the real world with our events. The goal of the project is simple and impossible: to create a portrait of everyone in the city. Since our launch about three months ago, several hundred Miami artists have created more than 550 portraits, which we call Sketchys. You can see them all on the site.

What's Sketchy got goin' on for Halloween? The Sketchy Halloween Party at Awarehouse is a costume party with live art, live music, a raffle of original art work, scary stories, DJ sets, food, and booze. Our ten featured artists work across the spectrum in terms of style and technique, and they will be on hand to sketch people in their Halloween finery. In addition to the live art, we've got three amazing bands on the bill; writer Matt Gajewski, the mind behind Pure Imagination, to raise your nape hair with tales of terror; and gastroPod and Ms. Cheezious serving up good eats all night.

Which Sketchy artists will be on hand? Featured artists are Olivier Casse, Jeiddy Lopez, Brian Butler, Marcelo Daldoce, JeanPaul Mallozzi, Jason Snyder, Russ Ronat, Regina Jestrow, Jen Meyer, Daniel Ortiz.

Does the admission price include a sketch? Admission: $20 = entry + 2 drinks; $30 = entry + 4 drinks; $50 = entry + unlimited drinks. If you prepay you get $5 off entry. You can sit for a Sketchy for free, but if you want to take it home it will cost $20. All of the proceeds go to the artists.

Everyone who comes to the party gets one free raffle ticket for a chance to win an original piece of artwork by one of the featured artists. You can see the pieces here.

Who's gonna be sounding off? Miami music makers The State Of, Arboles Libres, and organicarma will take the stage, Axiom will be spinning, and Mr. Feathers from Triangle Earth is going to hit the decks for a late-night DJ set.

Anything else we should know about before we get ready to go-go? The Sketchy Halloween Party is going to bring together some of Miami's finest artists, musicians, food and people. Another thing you should know: Coming in costume is cooler than not coming in costume -- by a long shot.

The Sketchy Halloween Party takes place Saturday night at Awarehouse. For more information log on here.