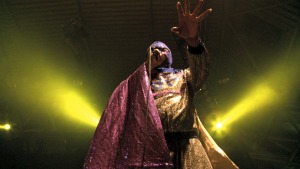 He's scandalized Sesame Street, out-hustled Hustler, and turned Otis Redding's "Dock of the Bay" into a sewage spill. He forecast a black president, foreshadowed folks like Schooly D and the Geto Boys, and foreswore the hell outta Parental Guidance. He's mean, he's lean, he's masked, and he's as mad as a genius. He's the one and only Blowfly, and he's now been big screened. Niteside got with director Jonathan Furmanski before The Weird World of Blowfly makes its four-night O Cinema stand.

For those few who might not know, who, in brief, is Blowfly? Blowfly is the dirtiest, most disgusting and hilarious rapper you will ever meet -- the original dirty rapper, in fact -- and he's also the alter ego of singer/songwriter/producer Clarence Reid, the cornerstone of the Miami soul, R&B, and funk scene of the 1960s and '70s.

How'd you come to be by his cinematic side? I got my first Blowfly album in high school, but I didn't know anything about Clarence Reid back then. I loved the record -- the songs were funny and the music was amazing -- but I got rid of my record player so I didn't listen to it for at least 15 years. I decided to look him up online in 2007, just out of curiosity, and I found out he was still working and very productive, so I sent an email and it took off from there.

Is all that included in The Weird World of Blowfly? No, I didn't represent that at all because it's not my story, it's Clarence's. The film includes a little bit of everything: we spend a lot of time with Clarence backstage, at home, in hotel rooms, etc; we meet his family, his friends, and many of the people he worked with back in the '60s and '70s, and we celebrate the music he made in those days; then there are live performances of some of the greatest Blowfly tracks.

Might we find any kinda juicy tidbits in your film? I don't know about juicy tidbits. We just tried to paint a complete picture of the man and I think you walk away with a very good idea of who he is and why he does what he does. But we do reveal some of the seamier side of the record industry and some of the dark business that goes on.

Isn't there also something about a blow-up doll? Well, the only blow-up doll I'm aware of was part of an interview and photo shoot for Hustler magazine. Although no rubber objects were harmed, it's one of my favorite scenes in the film.

Will Blowfly be performing during the doc's four-day opening run? Yes! He has a show at The Vagabond on Friday night and he'll be doing a small performance at O Cinema on Saturday night.

What else is on tap for this weekend? O Cinema has several events planned. Besides the Blowfly shows, we'll have DJ Le Spam spinning in the O Cinema courtyard on Friday night, and Blowfly and I will be doing Q&As after several of the screenings on Friday and Saturday night, plus there's a panel discussion on Sunday about Miami music and and its influence.

Before we go, if you had only one sentence to describe the phenomenon that is Blowfly, what would it be? Blowfly is an incendiary original: The most interesting, unexpected, and controversial character to come out of the Miami music scene -- maybe any music scene! A man who will make you laugh, but who will also make you think in his own unique and provocative way.

The Weird World of Blowfly Thursday Sept 29th 8pm; Friday Sept 30th 7:45pm & 10pm; Saturday Oct 1st 3:15pm, 5:30pm, 7:45pm & 10:00pm; and Sunday Oct 2nd 1pm, 3:15pm, 5:30pm & 10:00pm. O Cinema 90 NW 29th Street Miami. For more information call (305) 571-9970 or log on here.