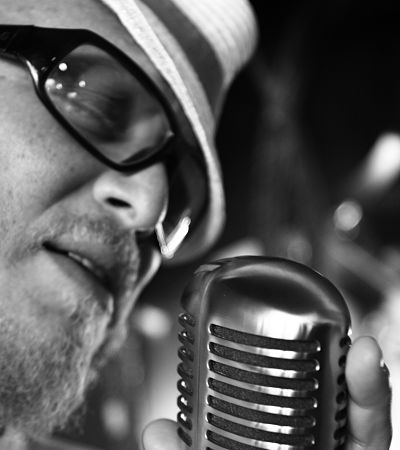 He's smooth, he's slick, and he's about as swell as a swell can come. He's gifted, he's grooved, and he's about as true as truth can get. He's Big Brooklyn Red, and this Thursday night he's bringing his old school belting to The Betsy. See. You. There.

For those few who don't yet know, who's Big Brooklyn Red? As an independent artist I ask that question of myself all the time so that is a long answer but I think I am best represented by my body of work. You can find me on YouTube, facebook, read my blog on blogspot, follow me on twitter and Google me. I like being googled...it tickles.

Word is you've got a residency at The Betsy. Wanna fill us in? I am performing at the Betsy Hotel on South Beach once a month for the next three months (and perhaps more). The folks at the Betsy see the value in having great local live music at their storied hotel. They have three areas for performance -- the lobby, the rooftop and the B-Bar. The B-Bar is currently booked out for some private events so I will return to performing there after Labor Day. This Thursday, 7/28, I will be in the lobby with Max Farber playing their beautiful grand piano and including a tribute to Amy Winehouse. I am also booked there on 8/18 and 9/29. Shows start at 9pm.

Don't you also have something goin' down at Daddy's Soul Food Lounge? Yes. I am very excited to be singing Soul Music at the only Soul Food spot on South Beach. I played there on July 4th weekend and will be playing there at least once a month from now on. The venue is located at 637 Washington Avenue and has the vibe that is reminiscent of Natalie's, the supper club featured on the '90s TV series NY Undercover. Classy and sophisticated, Daddy's serves up authentic Soul Food in an environment that is conducive to making music that feeds your soul.

In addition to all that South Beach action, you're in on something up in Springfield, Mass. Care to share the details? I am one of the founders of The Springfield Indie Soul Fest. We are in our second year, and it is taking place August 26th and 27th on the riverfront next to The Basketball Hall of Fame. We have two main stages. The headliner is Lonnie Liston Smith and performers include some of my contemporaries in the underground Soul Music movement that include Calvin Richardson and Sy Smith...and of course yours truly.

How'd that all come about? Last year I was in Springfield performing at Organix Soul, a monthly showcase, and in talking with the organizers of that event I had the idea for a festival. Andrew Keaton and Darrell Moss liked the idea and we ran with it. Last year was successful enough to warrant a bigger one this year. My hope is that it grows into one of the great festivals that happen every year.

Meantime, for us Miamians, what can we expect at The Betsy this Thursday night? I will be doing some of my material from my first album, the mix CD, my as of yet unreleased second album, some freestyles and some Amy Winehouse songs. Most of all you can expect to leave with your soul well fed.