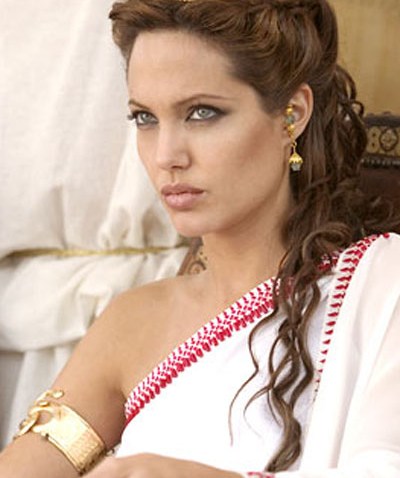 She was one of the most powerful women ever to walk the earth. She's been written about by everyone from Plutarch to Shakespeare, painted by the likes of Delacriox and Dali, and portrayed by such esteemed silver screen stars as Vivienne Leigh, Claudette Colbert, Sophia Loren and, of course, Elizabeth Taylor. She is Cleopatra -- the woman, the myth, and the legend. With the great lady about to be re-imagined by Angelina Jolie and a brilliant biography back on the bestseller lists, Niteside decided to get with its Pulitzer Prize-winning author, Stacy Schiff.

First off, congratulations on the book (I see it's #3 in the Times this week); second for having Scott Rudin pick up the rights and Angelina Jolie sign on to play Cleopatra. Do you know if Paul Greengrass has been confirmed to direct yet? To the best of my knowledge no director has yet been confirmed. There is a brilliant script, however, by Academy Award-winner Brian Helgeland.

Speaking of rumors, there's one circulating about Brad Pitt playing Antony. What do you think/hear about that? There is no truth whatsoever to that one. The only actor attached [to the project] is Angelina Jolie.

Blockbuster stars aside, your book couldn't have come out at a more fortuitous time in modern history. Do you think the events in Egypt have added to the overwhelming interest in your book? The book hit the bestseller list in the fall, well before any of us had, I think, any inkling of what might be brewing in Egypt. It is interesting to see parallels in the 2000 year-old history: the Ptolemies too were often deposed, exiled, killed by the Alexandrian mob and known to be a powerful and unruly bunch. But they ruled a very different Egypt, and they did so as absolute dictators.

Were you able to get to Egypt to do research while you were writing? Yes, I spent some time in Alexandria and in the desert east of the city, where Cleopatra was camped with her mercenary army when Caesar arrived (48 BC). The fortress that guarded Egypt's frontier still stands (it's being excavated) though it is difficult to visit, as it is east of the Suez Canal, in a military zone. Otherwise nothing of Cleopatra's Alexandria remains, at least on land. Artifacts have been and will continue to be dredged out of the harbor; what remains of Cleopatra's palace is either there, or under the modern city.

How is Cleopatra perceived by the Egyptians these days anyway? At the moment I think most Egyptians are focused on the future. But Cleopatra in the Arabic tradition is more an intellectual than a seductress.

There's a vast treasure trove of cultural homages to the great lady -- books, films, ballets, you name it. Was there any one history that you found particularly helpful with your research? Among the best sources were Plutarch, Dio, Appian, Suetonius, Strabo, Florus -- in other words the great historians of Rome. I avoided the fictional depictions, including even Lucan, who is among the first on the scene chronologically, but was a sensationalist, and was writing verse. Similarly, Horace and Virgil got left by the wayside; I spent more time with Josephus, who -- for all his bias -- was at least attempting to write history.

What's the single most glaring misconception about Cleopatra that you set out to rectify in your book? She was above all a deft leader, also a working queen, a single mother, and a hugely canny strategist. The supposed seductions concerned affairs of state, not of the heart.

Before we go, I've gotta ask: Do you think Cleopatra would've been fun to hang out with? By all accounts she was immensely charismatic, the kind of woman who changes the temperature when she walks into a room. She charmed; she flattered; she entertained. I admit that I lived over the last years both in fear and in awe of her, having relatively little experience with people who murder their siblings.
Stacy Schiff discusses Cleopatra: A Life Wednesday February 23 at Fairchild Tropical Garden 10901 Old Cutler Road Coral Gables. Advance Tickets at all Books and Books locations or call 305.443.4408 for more information.