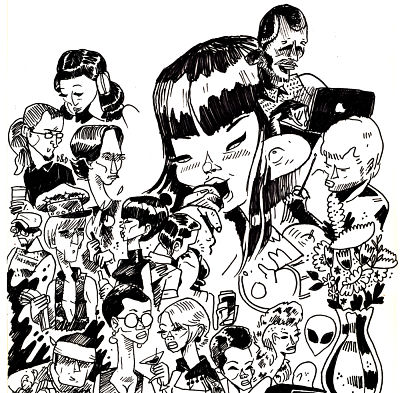 On Friday we warned you that Teeth would be gnawing their way through The Vagabond, and later that night UK's gleaming three-piece did all that and then some. But not before noshing at Wynwood Kitchen & Bar (and previewing the new menu's banging empanadas), doing a drive-by at Awarehouse (and meeting some of Miami's electronic scene), and chatting up Niteside (who was blessed to be in the great good company of phAxas from organicArma).

Among the things we learned about the thrashingly-catchy trio: laptop-wielding Ximon Tayki digs Lil B and Bushwick, beat-keeping Simon Whybray digs Chicago and Fleetwood Mac (really), and voice-throwing Veronica So is dug by everyone in the world. Best of all, Moshi Moshi's latest sensation so dug our town that the threesome vowed to come back during Basel and wow us all over again.

Till then though we'll have to settle for Brian Butler's dynamite live drawing, the singular sound of the just-out "Care Bear" and indelible memories of yet another resoundingly wild Friday night at The Vagabond.

Who'd have thought brushing could be so much fun?!?!?