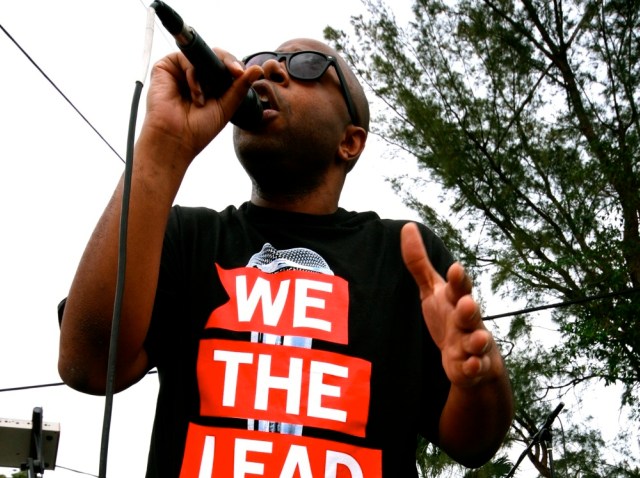 If Black Bobby had his way, he'd be the President of Hip-Hop. In fact that's one of his goals. And if the response to his infamous Block Parties is any indication, one day he may become just that. Till then we can be comforted by the fact that the rad cat is making his noise in the MIA, where his sound can be found everywhere there's a DJ and he himself can be caught anywhere there's a stage. The next Black Bobby Block Party goes down this Thursday night at Sweat Records. And if you have any interest at all in the now of our town, you'll be in hand for the action.

First off, who is Black Bobby and why should we dig him? I'm a huge music nerd -- from The Rapture to Rick Ross. My mom raised me until I was 15 in Washington, DC (she played a lot of Stevie Wonder & Stephanie Mills), then, with my dad until college, I heard classic rock, Motown, etc. I stole my first rap album from him: Run DMC's Raising Hell. I think I've secretly wanted to be Run every day since. I know the Def Jam story and I started a record label here called Square Biz to own and promote my music and other artists in the area. We throw a monthly party called Black Bobby's Block Party that features local, live music. We also manage talent. Miami has loads of talent and we want to help expose the dope stuff to the world, as well as bring awesome things we find back here.

Yeah, those block parties are pretty notorious. Can you give us the lowdown on the next one? Yep, this Thursday at 8pm, Sweat Records will be hosting Block Party. We have an amazing lineup of talent: MC Jumanji from Basshead Music, and Saheed, whose latest video for "The Ups" was just featured on over 30 websites including 2dopeboyz. I am also performing with DJ D-Up like we do every month. And we're giving away free mixtapes, t-shirts from Phat Kid Tendencies and maybe more.

That day you'll also be releasing Black Bobby's Negro Dialect. What's that all about? Black Bobby's Negro Dialect is my second mixtape and the first that Square Biz is dropping to support my campaign to be president of Hip-Hop. It will be available for free on June 17th via my website. My first tape was traditional Hip-Hop based on the '90s sound; this tape is more modern and is a wider range of music. There is still a ton of head-pounding Hip-Hop, but also some Dirty South dance music, Dubstep, Electro -- I even sing a little. The name is a play on the quote Sen. Harry Reid made about President Barack Obama's use of a "negro dialect."

Word is that Major Lazer cover ("Major Blazer") is already getting some play around town. What's the story of that song and who's on it right now? Yes! The song got a very strong response on Gigacrate, a DJ pool of 25,000 DJs. D-Up was the first to drop it in Miami. But Lolo also played it on WVUM's "Miami Time" show, Dimitris George in DC, DJ Reflex in NYC as well as a number of other DJs. "Major Blazer" is my first attempt at rapping on an Electro beat. I love the bars downtown like Vagabond. I heard the original song there. The girls in the bar were going so hard to it. And the beat is so tight. I thought 'I'd love to put a rap on this.' I had never heard anyone rap on it before. It will be available on Negro Dialect and the single is available now on my website.

How long has Square Biz Entertainment been in the game anyway, and who else is on the label? Square Biz is not even as old as my first mixtape. We dropped Phat Kid Tendencies six months ago and the response to it was so strong that we felt like we should professionalize our operation. So, based on the weekly party we started on South Beach at Love/Hate called "Square Biz," we decided to move forward with an entertainment company that would handle all of our work here. We manage DJ D-Up, we have our promo team I-95, an in-house producer named RCubed, a photographer and my booking manager. We are also developing new talent -- Teagus Mayne is a local rapper and RK9 is a DJ and producer that we work with closely. But our next project is the most exciting to me. We are working to put a Taco Truck on the road around Miami. The best part is the tacos are amazing!

Seems you're always staging somewhere. Can you name some of the highlights and what's coming up besides the Block Party? I love to perform and I will go anywhere. I just want folks to hear my music and to get better. My highlight so far was performing with AZ and Cormega at White Room. Some other notable shows include Miami Independent Thinkers during Art Basel, with N.O.R.E., Garcia and Mayday at Vagabond for (((SHAKE))), and SWEATSTOCK. I also do a ton of benefit shows. My background is in nonprofit management. I've done a few Haiti benefits, we co-sponsored a fundraiser for Chile and I did a Lupus benefit, etc. I'd like to do more of that. After Block Party I'll be at Jazid with Suenalo on July 3rd. All of my shows are announced on my website and/or Facebook.

Rumor has it you and Amaechi Uzoigwe, the CEO of Definitive Jux, have some kinda connect. Can you please elaborate? Amaechi is the best! He's my mentor in music. I met him through Lolo who sent him Phat Kid Tendencies. He wrote me that he bumps my tape on the regular. Since then I've asked him to be a sounding board for my wild and crazy ideas about the music business. The Black Bobby for President of Hip-Hop Campaign was his idea. He has so much experience, from launching Definitive Jux to managing the Flaming Lips, and now as a co-founder of Fairtilizer. I just like to hear his stories for the most part. He's wise.

You were schooled first at Tufts (where you became school president), then at the Kennedy School for Government (where you earned a Masters in Public Policy), and you've got a strong background in street-side politics. Can you fill us in on some of those details? I've been a social entrepreneur since high school where I founded my school's first Black Students' Association with my friends. In college I did just about everything to distract me from class. Three of my friends and I started a nonprofit my senior year of college called United Leaders and grew that to a business in three cities with a $1M budget. We were training college kids to be the generation of leaders here that would bring about a sea change in government. Because of that and my degree from Harvard, I know a ton about government, politics and public service. I plan to use that experience and education to launch a venture philanthropy fund with Square Biz here in Miami that will help grow local nonprofit capacity and recruit outside organizations to the area.

How has that background helped you in your hip hop career? Music is just like politics is so many ways -- building a campaign, marketing a person, spreading a message, etc. In addition we're using my background to give us ideas for the Black Bobby for President of Hip-Hop Campaign. My education helps me write music. I'm constantly incorporating my ideas about service and leadership into my lyrics -- I quote people like Paul Lawrence Dunbar, Kurt Vonnegut, George Orwell, Abraham Lincoln, etc. Beyond that, there aren't many entertainers with my resume, so I feel like we have a lot of options beyond music that we could pursue one day. But for now I'm totally focused on Hip-Hop.

When you're not staging somewhere or throwing a block party, where in town do you most dig hanging out? I'm all about Downtown Miami. I live between Vagabond and Grand Central. I also enjoy the Beach on occasion for places like Love/Hate, Purdy, the Delano, Florida Room and Buck 15. My favorite restaurants are Jackson's Soul Food in Overtown, La Moon on Calle Ocho and The Daily on Biscayne. I also try to go to all of the tight Hip-Hop shows that come to town, not to mention just about anything mentioned on Sweat Records' blog. I love Miami. There is so much culture and diversity here. Why does anyone ever leave?