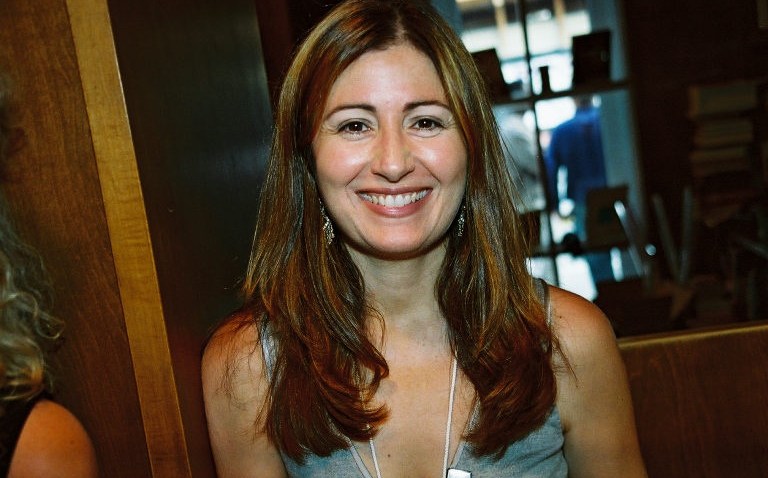 Anyone who reads books (and that better be everyone) is all too familiar with Miami's own Books and Books. Branched from the Gables to the Beach to Bal Harbour, it's not only one of America's most respected independent booksellers; it's a kinda meeting house for high and engaging minds. Many of those meetings are presided over by a world-class author, and when they are, you know that Cristina Nosti had something to do with it. Nosti is Books and Books' booker, and it is she you should thank every time your favorite writer comes rolling into town.
You are Books & Books' Director of Events and Marketing. Can you please tell us a bit about what that job entails? I wish I could say it was as easy as scheduling events and marketing them, but because of our bookstore's role as a community center, it's really a very rich and complex job and I wear many different hats. I like to think of myself as a curator of programs, who is also a bookseller, as well as lover of culture and community.
Together with my colleague in the events department, Debra Linn, we book an average of 40 events a week. One event every night of the week, at the Gables store, Monday through Sunday, not to mention programs in other locations (now numbering five) in Miami Beach, Bal Harbour Shops, Grand Cayman and our newest soon to open in Westhampton Beach, Long Island.
The author side of things must be very exciting. Who are some of the biggest names you've handled? Certainly President Clinton's first visit for My Life is probably the most memorable author event of 'my life'. The line started forming outside the bookstore the night before and was eventually eight blocks long. We sold out of the 2,000 books that we were allowed to sell by noon the day we put them on sale. Working with the secret service, Clinton's advance team, coordinating such a huge autographing, and the people themselves and their excitement at meeting him. It was pretty amazing!
Yet, there have been so many great memories over the years... Umberto Eco singing songs in Italian as part of his reading; raiding the Rabbi's refrigerator for vodka shots with a reporter from The Guardian and Salman Rushdie; smoking cigarettes with literary couple par excellence Paul Auster & Siri Hustvedt as they talk film; drinking beer and joking with Jamie Oliver and his team outside in the courtyard; holding Jane Fonda's dog offstage as she converses with local artist Purvis Young; Barbara Walters being Barbara Walters at Temple Judea; talking poetry with Lemony Snicket aka Daniel Handler who is a closet poetry lover; inflating moose heads with Chuck Palahniuk... The list is endless.

There's just no way to do justice to these interactions or summarize the countless moments during which your life becomes a part of this great ongoing conversation of great minds and thinkers...oh, I'm babbling now, overcome with emotion from realizing what a truly great ride it's been...
How 'bout naming a few of the most inspiring to have appeared over the years? Many of the smaller, perhaps lesser known authors are the ones who are most memorable in my mind. What strikes me as special and never ceases to move me are the readings where we introduce a debut author to an audience that we have had to nurture on their behalf. Here's a person who has been toiling in anonymity and out of the hundreds and thousands of books that are published each year, this one is supposed to somehow break through and stand out in people's minds. Those are the events I agonize over. If Barbara Walters is coming to town, you pretty much know you will have a full house, but what of the unknown writer with no name recognition, where there will possibly be a circle of 10 people, if you're lucky. To reach the right people and convince them to come and then see it actually all go down in the bookstore is incredibly inspiring to me personally
Without naming names (if you don't want to), who were some of the biggest pains? Honestly, I can't think of a single pain. Swear. The authors who end up visiting us are usually so aware of our purpose, the fact that we are independently-owned, what this means in our world, that they go out of their way to be nice. Many of them have specifically requested to visit us. They know Mitchell and our bookstore's fine reputation, but they also want to get out and support what we do. Surely, everyone has their own personality, and some have been more challenging than others (along with the fan base they attract), but they have all been special. Each and every one.
Anybody coming up this summer that's got you all atwitter? Well, I simply adore Tony Bourdain! His irreverence, talent and sense of adventure. I can never get over how lucky I am that he even knows my name. I am also looking forward to Christopher Hitchens because he is fun, erudite and controversial. Julie Andrews: who doesn't love Julie Andrews? She's a celebrity and probably a bit high maintenance, but I will gladly arrange to make hot tea for her and anything else she may require, in order to bask in the glow of her presence.
All this author interaction must require you to read a lot. What's on your bedstand right now? I try to read many of the author's books who will visit us in advance, but don't always succeed. There are books piled in stacks all over my bedroom. The many I've read are like old friends, some I've dipped into and never finished, some call my name incessantly, others are never beguiling enough, but it seems like you always get around to the right book at the right time of your life, don't you think?
The Gables branch of Books and Books is walled with fabulous author photographs. Who's the shooter? Yes, aren't those exquisite? They are all by Susie Horgan. She's been shooting at Books and Books for over 20 years. We can only showcase a few on our walls, but there are so many more that provide such a wonderful archive of moments. Susie's eye is unique. She waits for something authentic, something real and unusual, a moment that she is privy to, while standing in back of the room during a reading. Her ability to capture the real within the mundane is just downright spooky. Susie is the sacred record-keeper of our universe.
You mentioned Books and Books owner Mitchell Kaplan. What's it like working for a literary firebrand? Mitchell is magic. And you can't accurately describe magic without destroying the mystery. He's many things at once, but mostly the best boss and friend I could ever have asked for. I learn from him all the time and he's the reason I come in to work every day and the inspiration behind all I do. (That doesn't mean I don't want to wring his neck every once in awhile!) He's one of the most talented people I know and an outside-the-box thinker. He's generous to a fault and truly passionate about literature, music, art, film, culture: all the great good things that make life worth living. That's what he's created at Books & Books and I like to think that I had something to do with it, too...
What's coming up for Cristina Nosti? Who can possibly know? Certainly, I'd like to think it is growth and evolution. My future is directly connected to the future of this extraordinary business, a rarefied universe. Attending Book Expo in New York this year, I realized just how uncertain the future really is for us book people, with so much digital media, so many applications, e-books and readers. However, I think that if you stick to your guns and continue doing what you've been doing -- day-in/day-out you offer something continually valuable to your community -- they will support your efforts. As long as Mitchell Kaplan is around, I think Books & Books has great potential to grow in unique and creative ways. He's always leading us down exciting new avenues.