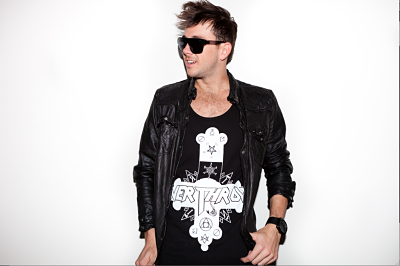 When hotshot MIA DJs booth up for their b-day, they do it with high heat. Otherwise, why bother? Take Overthrow Gang member Troy Kurtz, who's got two hotspots on his b-day weekend agenda. Rather than bake the spinman a cake, Niteside decided to shoot him a few quick Qs. Here's what he shot back:

Wanna fill us in on Friday's spin? I'm really excited to be back at Arkadia this Friday, not just because it's probably one of the nicest clubs in Miami, but also because they're marketing the party as my birthday celebration. Needless to say, I'm half expecting a cake to appear at some point in the night.

Aren't you planning an equally kickin' Saturday night too? I'm warming up for Designer Drugs at The Fillmore which should be absolutely bonkers. It's been awhile since I've had a chance to play a more aggressive set, so I'm really looking forward to the event.

This your first time connecting with Designer Drugs? Yeah, it'll be dope to meet the guys. I've been playing their tracks for as long as I've been DJing so it's real cool to be on the bill with them.

Where else have you been boothing-up lately? I opened up for Laidback Luke at Space a few weeks ago which was absolutely mental. Last Friday I played at Bardot and had a great time, so hopefully I'll be back there a few more times this summer.

Besides the spin date, you've also recently released a mix tape for Space. Care to the share the details? The market for DJs in Miami is real competitive, so to be given the chance to open up for someone like Laidback Luke was a pretty big honor. The idea for the mix tape was to show that I had some really great house records to play on The Terrace.

Word is you've also racked Haute & Bothered Volume 2. That so? It is. The response I got from the first mix was unreal and about a year had passed so I thought it was time to do part two. I feature a bunch of young producers like Canblaster, French Fries, and Brenmar, who I think are making club tracks for the future.

We gonna hear some of the above this weekend? There's definitely a couple tracks in the mix that I'll play out on Saturday. I'm even gonna try to squeeze in Miami's own Danny Daze, who just released an EP last week on Hot Creations. His track "Your Everything" has already reached #1 on Beatport's deep house chart, which is just massive.

Troy Kurtz spins Disco Shit at Arkadia Friday on July 22 and with Designer Drugs at The Fillmore on July 23. To keep up with the dizzy, follow the spin man here.