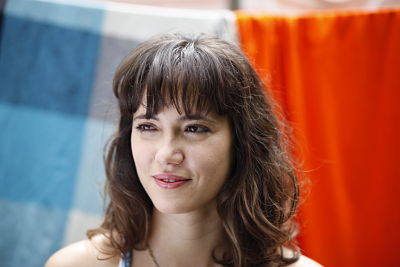 Brazil has long exported some very exciting music, be it the bossa nova of João Gilberto or the MPB of Gilberto Gil. The latest to come to our shores from that fabled country is a singer known simply as Tiê. Her name, which means wisdom in Japanese and is also the name of a Brazilian red bird, couldn't be better suited to represent the ethereal sound of this song stylist. Hear for yourself tonight at Van Dyke Cafe.

How did this whole American tour come about? The Brazilian embassy invited Tulipa and I to play these shows and release our albums here. Thanks to Warner Music I was able to extend this tour to Miami.

Had you been to any of the cities prior to this? Only NYC, where I lived for one year. This will be the first time for both Washington and Miami.

You're here to support not one but two LPs, care to fill us in? Sure, there's 2009's Sweet Jardim (Sweet Garden), which came out on Warner Brazil and was produced by Plinio Profeta, and this year's A coruja e o coração (The Owl and the Heart), which Plinio also produced.

Brazil has a rather formidable musical pedigree, does that intimidate or inspire you? It definitely inspires me. Then again, how can one not be inspired by such tremendous artists as Dolores Duran, Raul Seixas and Mutantes?

Anything else we should know about Tiê before we go? I do voice over as well. I have a family to take care of (daughter and husband), so I wash dishes and clean the house. And I enjoy life, travelling and being with friends. Oh, and I'll be playing the next Rock in Rio!

Tiê performs Tuesday, August 23rd, 9pm, Upstairs at Van Dyke Cafe 846 Lincoln Road South Beach. For more information call (305) 534-3600 or log on here.