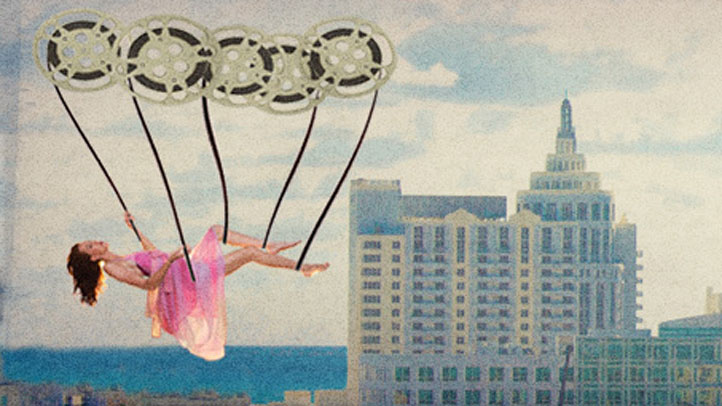 You've seen her on the posters and the date cards, in the full-page advertisements and the guides. You've even seen her on a billboard floating above I-95. She is Breanna Elise Murphey, the Miami International Film Festival's "It" Girl for 2011. Niteside saw so much of her, we simply had to see more.

What's it feel like being Miami Film Fest's "It Girl"? It feels great to be a part of something that brings culture and art to Miami.

Did you know that MIFF even put the image on an I-95 billboard?!? I actually had no idea about the billboard till about three days ago; [photographer] Stian Roenning mentioned it to me at the opening on Friday.

How'd you get the gig anyway? Aleksandra Marcotte had called me about the MIFF shoot to see if I was interested, which of course I was. We had talked a few days prior and I had mentioned how I wanted to work with her, and she was happy to take me up on that offer.

Stian Roenning did the shooting -- you two have worked together before too, right? Yes, I've worked with Stian on different occassions. I would, without a doubt, say Stian is another person in town I love to work with. He's always happy and easy going, which is is great when working with a professional and someone so artistically driven.

Is this the first time you got to wear Paul Raymond in a campaign? I had never worn Paul's clothes before this shoot, but from the moment I put it on I was a fan. Paul knows how to make a woman look beautiful.

What other campaigns have you done that we might have seen? The most recent campaign I was a part of was Silver Daggers 2011 line. They're a clothing company based here in South Florida.

Before we go, we should note that you're a fairly recent transplant. Now that you've unequivocally arrived, are you happy that you came to Miami? Now that I have spent some time here, gotten to know the city, and have found some wonderful people who inspire me artistically and intellectually, it's become incredibly enjoyable. I have a beautiful group of people I surround myself with -- photographers, artists, writers, architects, developers, etc -- who stimulate me and encourage me to constantly push myself to do better. Without those people, without the art and culture of this town, without what I like to call a "Think Tank" of intellectuals, Miami wouldn't be the same.

Sometimes it's okay to be a follower! Check us out @Nitesidemia.