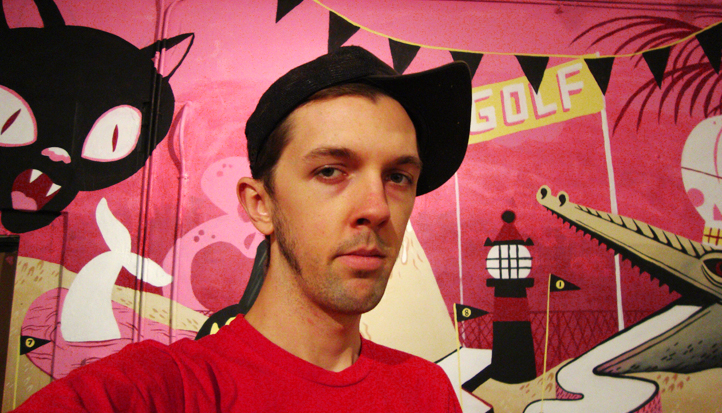 Modern life can become pretty scripted. We rise and dine by a fixed time, travel via tracking device, and more often than not take the road too traveled. That's why every once in awhile we need to veer off the proscribed path and just follow our noses, wherever they may go. Ultra-vivid visualist theupperhandart.com knows this, and he shows it in "Get Lost," that putt-putt-powered, map-free roam which opens Second Saturday night at Product/81.

In a sentence, who is Brian Butler and what is he up to? I am an artist and avid miniature golfer preparing for my first Miami solo show.

How will that manifest this Second Saturday night? The show is called "Get Lost" and will feature artwork across a range of mediums. I transformed the interior of Product/81 with a collection of paintings, sculpture, and photographs, alongside a playable mini golf hole, and giant mural.

Why "Get Lost"? The title Get Lost is inspired by years of getting lost on the back roads of America. These expeditions are rooted firmly in the quest for great miniature golf, and create the framework from which I build my artwork. I had been a fan of the exhibitions Product/81 had been hosting through the South Florida Ford Fordistas program, and was thrilled when they agreed to take on my vision for a big solo show. We thought it was appropriate to create a show that was so heavily informed by roadside culture. It has been a terrific opportunity, and I am very pleased with the way things are looking!

We know "Get Lost" is the main show, but what else is on tap for this Second Saturday? Aside from a bar stocked with ice cream, and the rewarding sound of a hole-in-one, guests will also be treated to a live performance by The Tremends.

Any parting words before you go-go? I've been exploring the idea of bowling art.

Brian Butler's Get Lost opens Second Saturday June 9, 7pm at Product/81 2311 NW 2nd Ave Wynwood. For more information log on here.