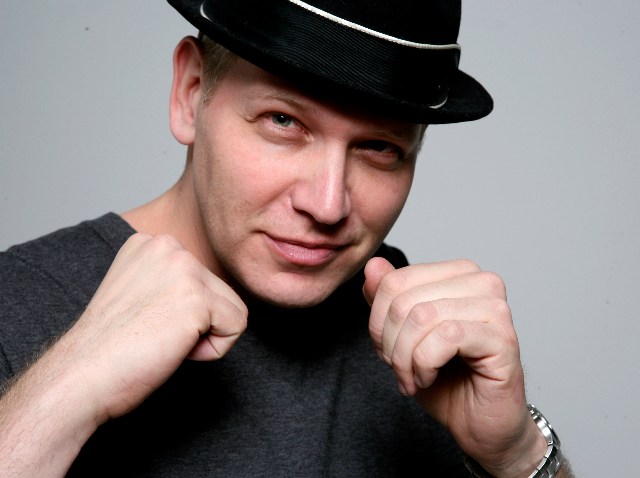 Some people are just meant to do what they do. Take Brian Hicks, manager at Mercadito. It's clear how much he digs hopping from table to table, chatting up the diners and making sure everyone's having a dynamite time. Niteside decided to ask him about it.

You're Mercadito's Manager. Can you tell folks what all that job entails? It's a juggling act every day with what takes priority. For example, the broken dishwasher or the busser who cannot come in because they are sick. Stopping by the table to say hi to a VIP guest or grabbing a bucket of ice for the bar so they are not too far behind. Day to day it's drawing up floor plans for the server sections, the battle plan and having the staff meeting to discuss the game plan for the night. The best part of my job is when I'm running the door on a busy Saturday night seating 440 people and making sure everyone that walks in is happy. It is a huge challenge but when it happens, what a great feeling.

Prior to your Miami appointment, you were doing similar work up in Chicago. Care to fill us in? Yes. I was managing several different places including Sound Bar, which is one of Chicago's largest nightclubs, Sushi Samba, and of course I helped open Mercadito Chicago. I have a lot of great friends back in Chicago and an amazing history as well. I'm always willing to give suggestions to anyone traveling back to my stomping grounds.

Didn't you also do a similar stint in New York? I had the opportunity to live in NYC and Brooklyn two times managing Sushi Samba and Mercadito. What a great experience that was. What an incredible adventuresome food culture. Sunday afternoons spent in Madison Square Park eating at Shake Shack, evening's spent hanging out at the Death and Company drinking Smoked Horchatas and eating Maple Porkbelly Crostini. ... What could be better?

Seems like a small way from small town Arkansas. Why did you settle on Miami? Well, I headed down here to open the newest Mercadito and after a few months the owner asked me to stay. The majority of my time has been in the opening of restaurants and overseeing the staff and operations of the restaurants, so why not Miami? I am surprised that every day I have off, Miami has a new adventure to enjoy.

Speaking of our fair city, word is you like to hit some of the less beaten paths. What are some of the adventures you've been on since your arrival? One of my first adventures was finding La Camaronera fish market with my friends Daniel and Shirley. We had fresh fried Grouper cheeks and drank Pacifico. After lunch we stumbled on a cigar store where the owner pulled out a dominos table and a bottle of Cuban rum and we played dominos with our chef Pat.

Since living in Miami I am always up for a local adventure and when our bartender Aaron invited me sandballing for yellowtail in Islamorada. I said, "What-balling for what?" Two hours later, I was at Bud and Mary's famous fishing charters shaking hands with one of my now-new friends captain Ben, who guided me on one of the best fishing trips I have ever been on.

The open Lobster season free diving for lobsters in the keys was a hoot, too. A buddy of mine, Bert, took our hand nets and tickle sticks down to Marathon where se swam for miles and caught lots of very small crawdads. Well you cant win them all. But fun none the less.

Have you any other adventures planned for the near future? Well, there are a few burlesque venues that have sprung up in Miami I'd like to check out. They sound like fun. They also tell me there is a wake-boarding complex where you are pulled around all day on pulleys. Now that I have to check out too. Maybe some surfing. I hear there is surf here in North Miami. Then there is a gastro pub opening soon called Pub Belly I can't wait to try.

Speaking of adventures, you also just launched a pretty adventurous radio show didn't you? Oh, yeah. The "What I Like" or WIL. It's a show about the music in my life from childhood to current day. My friend Adrian has an Internet radio station called Wynwood Radio and he and I had been kicking around the idea of me taking on a weekly two-hour spot and it has been great. I get to play "Have Love Will Travel" by the Sonics back-to-back with "Cold Lampin" by Chuck D and Flavor Flav. Motorhead mashed-up with the Gorillas, really unique music. The show is all over the place, and I get to talk about music that not everyone has heard before. It's really a blast.

How does all that extra-curricular activity help you with hospitality? I'm learning so much about Miami so quickly I feel that sharing those experiences with our guests brings them closer to me it established a great comfort level right off the bat. I also love to promote great experiences to my guests. Like the Pizza at Pizzeria Volante or even Brian at King automotive who helps with all my friends' cars. If I recommend a great thing to a guest then they trust me and will always come back. It all boils down to if you are having fun on your day off it will translate to your work.

When you're not out in the wild or handling things at Mercadito, where do you most dig hanging out? First, a big shout out to John and Brandon at the Florida Room. When I'm off Wednesdays you will find me drinking smashes at the bar. And Electric Pickle books ridiculous DJs. At 4 a.m. you might find me at La Sandwicherie eating a prosciutto and buffalo mozzarella sandwich watching the people stumble out of the Deuce across the street. And now that Shake Shack is here, it makes me feel like home.