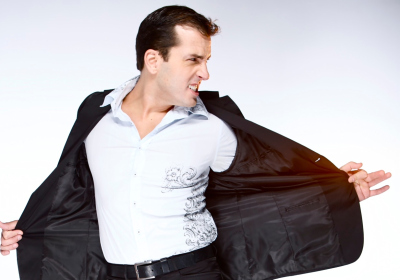 There are few South Beach faces as recognizable as Buster Cox. In fact, there are few voices as recognizable either. For many moons he was all over radio in addition to appearing everywhere from Deco Drive to his own A3 TV, both of which he still does. But that doesn't take into account his on-site work, which includes leading the festivities for some of the biggest names in DJdom. On July 4, Cox will be back on the mic for the 6th Annual IndepenDANCE Pool and Beach Party. And our country's birthday will never be the same.

On Sunday, you're hosting IndepenDANCE. Can you give us the lowdown? Beyond what happens during WMC (Winter Music Conference), there really are no other dance music events as large or as outrageous as the Independance pool party. This year, we have two of the biggest DJs in the world -- Sander Kleinenberg and DJ MAG's current No. 1 ranked Armin van Buuren. It all goes down poolside and beachside at The Surfcomber from 11a.m. to 11 p.m., rain or shine.

This isn't your first time hosting this throwdown is it? I've been hosting the Surfcomber pool parties since they began them several years ago and there are few things I enjoy more. The crowd there is very educated to the music and my job is to ride the energy of the DJ and every once and a while give them a little bit of a nudge over the top.

You've also hosted a plethora of South Beach's biggest events. Can you name a few for us? You're right. I have been lucky enough to host events for some of the biggest DJs in the world. I have gone on tour with Paul van Dyk; broadcasted live on the radio with names like Tiesto and Ferry Coresten; and I am the host of the Groove Cruise which I will be heading out to experience again from New York on Aug. 4. Beyond music-driven events, you can find me hosting the annual Beach Ball Festival, Bacardi B-Live, Fashion Art Ball and lots of other smaller events. Basically, I feel most comfortable with a mic in my hand. It probably has to do with making up for other deficiencies, but you would have to ask one of my several therapists about that.

You're also on the boob tube. Wanna fill us in? You can find me a a recurring character on Deco Drive as well as on our YouTube channel, the A3 Network, which features hot chicks, crazy parties and the outrageous lifestyle of South Beach.

Why do you think the world keeps turning to South Beach anyway? There is an energy to South Beach that keeps people coming back for more, something that makes their inhibitions evaporate away as fast as a cheap Patron shot or a visiting New Yorker's tan.

When you're not hitting some hotspot with a microphone in hand, where do you most dig hanging out? Truth be told, there are few things I like more than chilling with my beautiful girlfriend watching movies and ordering sushi. ... I try not go hang out unless I'm hosting an event because I enjoy my down time way too much.

What's coming up for Buster Cox? I've always got a million things going on -- my YouTube channels, various projects for our production company (5th & Ocean Productions) such as music videos, commercials etc. But beyond this I am also working on creating a TV show based around the fun content I have been making for Deco Drive. ... So for right now all I can say is: stay tuned!