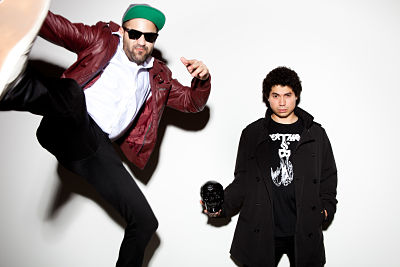 Forget the insane Roman emperor who reportedly bedded an entire Empire and murdered at every whim; no need to remember Penthouse founder Bob Guccione's same-named motion picture either. (Not that there ever really was.) Why? Because Caligula just got reconfigured for the dancefloor and those age-old notions have been swift-kicked right out the door. Niteside sidles up to Damaged Goods and Mikey Millions, two men who are set to give us all a rise. Catch them Thursday night at The Vagabond.

WTF is Caligula?
Caligula is a bassheavy production/DJ duo consisting of Miami's resident bad-boy DJ Damaged Goods aka Obi Tawil, and studio-whiz and musical sponge Mikey Millions aka Mike Larson. We've been putting out a steady stream of original tracks and remixing tracks by Swedish House Mafia, MIA, Rick Ross, NERD, Kid Cudi, and more and tearing up shows with some of the biggest names in dubstep.

If your sound was a color, which would it be?
Blood Red!

How'd you two connect anyway?
MIKE: I was always a hip-hop guy, but at Alexis Mincolla's now defunct Black Sunday at Bella Rose parties, I became obsessed with this emerging bass heavy music they were playing there called dubstep. Lex introduced me to his partner and our future manager Sam Baum and after a serious music meeting in the Overthrow Castle, he introduced me to Obi. It was within those dark gates we decided we should work together.

Can you tell us about Thursday night's throwdown?
On Thursday, March 3rd, we're gonna be at Vagabond in downtown Miami celebrating the release of our first EP, The Rise. We will be headlining with support from Troy Kurtz and Tamara Sky holding it down and Magoula and Dave Betamax representing Smut+Bass. Its going to be major.

Aren't you debuting a video that night, too?
Damaged Goods: Yeah! We shot a ridiculously sexy music video for our track "Light in the Dark." Stian Roenning and Sam Baum wrote and directed it at Studio 1415. The gorgeous duo of Barbara Alonso and her cousin Jessica, who are both professional dancers, became fans of Caligula after I started dropping our tunes at Mansion, and they graciously volunteered to be part of the video. The concept pays homage to the scandalous ways of our namesake. It's definitely the sexiest dubstep video ever made and if it's half as fun to watch as it was to make, people are going to flip out.

What made you decide to launch The Rise at Vagabond on Thursday?
Vagabond hosts a weekly party called ((SHAKE)) promoted by a good friend of ours, Jsin Jiminez, which once a month goes dubstep as Get Low. We played another party there with Zeds Dead in December and couldn't wait to get back. Definitely one of the best crowds for bass!

Will this be the first Overthrow Records release?
The record label is officially called Overthrow Music Authority and this will be their second release (after Boston electronic trio Hot Pink Delorean's Club Crashers EP). During Ultra Week they'll be putting out a compilation with tracks from future releases from Spinstyles, Heroes+Villains, Timeline, SugarNights, and more artists that will soon become household names. That is, if your house is awesome.

Any other like minds operating in the MIA you find equally engaging?
Other than all our Overthrow brethren, our good friend Craze has some incredible production on the way from his Slow Roast imprint. Panic Bomber is killing it as always and might be putting something out on OMA, too. J Nics (who makes an appearance on our EP) is making noise in the hip-hop world with the dudes from Last Right Inc. Also, Smut+Bass are releasing some gnarly tunes these days, Dave Betamax's solo release Dissolved just dropped and it's pretty epic.

Before we go, we've gotta know: What inspired you to cop the name - the insane Roman emperor who reportedly murdered at whim or Penthouse founder Bob Guccione's depraved cinematic debacle?
Damaged Goods: I've had the idea to do dubstep under the name Caligula for awhile. I always thought that if Caligula was around today, he would probably be playing dubstep at his notorious orgies and torture sessions. When Mike and I started working, it was immediately under that name. We bought the movie and after watching realized we had a lot to live up to! Here we are one year later releasing our first EP and working with guys like Swedish House Mafia! HAIL CALIGULA!