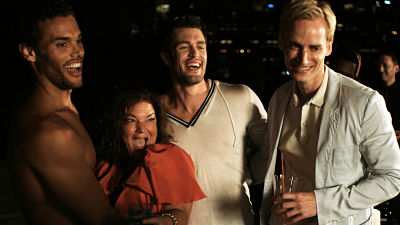 Funny is funny, whether you're a forty-year-old fag hag or not. But if you happen to be a forty-year-old fag hag whose biological clock is seriously ticking, well, you're probably not laughing much. Then again, if you'd spent your more formative years starring in a sitcom called The Facts of Life, you'd undoubtedly find humor in even the bleakest of situations. Such is the case with Mindy Cohn, whose titular star turn in Casper Andreas's Violet Tendencies will have you cracking up. The film screens Thursday through Sunday at Wynwood's O Cinema, Niteside sidled up to the director before everybody busts a gut.

Can you please tell us a bit about Violet Tendencies? The film stars Mindy Cohn, who played Natalie in The Facts of Life. Mindy plays Violet who is Manhattan's most fabulous fruit fly. She loves all her gay friends but comes to the realization that she needs to venture out beyond the gay bar if she is ever going to find a man of her own. So that kind of sets her off on a quest to change the woman she is. Of course her friends are not gonna let this happen without putting up a fight!

Didn't some of these characters appear in two of your previous films as well? Yes! Violet's roommate Luke is back from my first two films: Slutty Summer and A Four Letter Word. In my first film I hired Jesse [Archer] to play the supporting role of Luke; then together we wrote A Four Letter Word, which was all centered around that same character. Jesse then wrote the script for Violet on his own, and of course he once again gave himself a juicy role! :) He was kind enough to also write a role for my character Markus though, who was the lead in Slutty Summer. So I'm acting in this film as well, which was a lot of fun.

So Jesse's on some kinda trajectory, huh? Yes! Jesse went from being just an actor, to being an actor and writer, and then for this film I made him produce it with me as well, which I was very happy about. As the writer Jesse was very concerned with things turning out the way he had pictured it so he worked super-hard to line up locations, extras, and even some props and clothes. Since it's a low budget film we had to get all our friends involved and Jesse has a lot of friends. The thank you credits for this film are very long.

Speaking of fit, would you say Mindy Cohn makes a great fag hag? I'd say so and I know she would agree! She told us that she's been a fag hag all her life and she is very proud of it.

How'd you both get connected to her? A friend of ours suggested her to us kind of late in the game and we thought why not? So we got in touch with her manager. Mindy read the script and loved it. She lives in LA so we didn't get a chance to meet with her before the shoot started, but both me and Jesse did some rehearsals with her over Skype and talked about all the scenes and what we were looking for, etc. so that she could prepare on her own. Then she came out to New York the first day of shooting and hit the ground running.

Did she join you on the festival circuit? Mindy only went to a couple of festivals and I think she had a good time. She was actually in Miami for our very first screening, which was at the Miami Gay Film Festival last year. The audiences at the gay film festivals loved seeing her in this role and meeting her, so I know she got lots of love.

What made you decide to bring it to Miami's O Cinema now? I think Violet Tendencies will make a splash at this beautiful new venue. People in Miami are always looking for a fun time and this movie is it. I can guarantee an hilarious hundred minutes together with Violet and her friends!

Anything else you'd like to add before we go go? Whether or not you are a fag hag or have a fag hag or don't even know what that is, please check out the movie! It's dealing with many other themes as well and ultimately it's about wanting to fit in and creating one's own family of same-minded people -- and who can't relate to that?
Violet Tendencies plays Thursday, April 7 @ 8 p.m.; Friday, April 8 @ 7:45 p.m.; & 10 p.m., Saturday, April 9 @ 3:15 p.m., 5:30 p.m., 7:45 p.m., 10 p.m. and Sunday, April 10 @ 1 p.m., 3:15 p.m., 5:30 p.m., 7:45 p.m. at O Cinema, 90 NW 29th Street, Wynwood. For more information call 305.571.9970