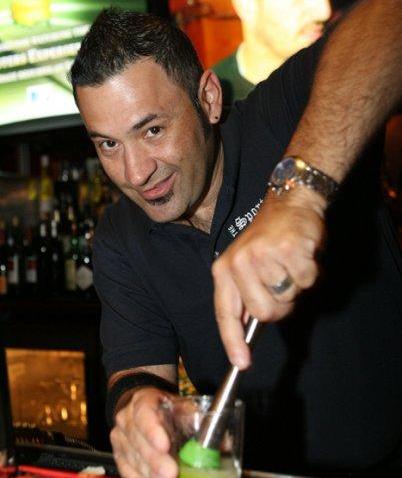 Founding president of the Florida Chapter of the United States Bartenders Guild, founding partner of the Alambiq brand consulting group, on the stick at Club 50 in The Viceroy... you could say that David Ortiz's life is one long pour. And when October dawns and the mixologist is featured on the Sundance Channel's Iconoclasts series "Beyond the Bar," the pour's gonna be known to the whole wild world. On Monday night Ortiz and his pals at Alambiq are hosting an Appleton Reserve Remixology Competition at the Viceroy's Club 50, so NBC Miami decided to check in.

You're one of the founding partners of Alambiq. Can you please tell the folks a bit about the company? AlambiQ, Inc. is a company that was formed to fill the void between the consumer and supplier. Our mission is to educate consumers and front line employees (bartenders, waitresses, etc) with empowerment of certain brand/spirit knowledge, so they are able to provide a superior experience for the paying consumer. My partners Freddy Diaz and Julio Cabrera are as passionate and well versed as I am. Events we have been involved with are Tales of the Cocktail, New Orleans, Art Walk, Art Basel, Rum Renaissance, Fairchild Tropical Garden fundraisers, American Cancer Society, agriculture show for Metro-Dade county, South Beach Food and Wine, etc..

On Monday August 23, you and your crew have something going down at The Viceroy. Want to give us the details? Sure, on Monday we holding an Appleton Reserve Remixology Competition at the Viceroy's Club 50. A select few of the top mixologist from around the United States will be vying for the opportunity to compete in the finals held in Jamaica.

How did you first get into branding anyway? When I first started bartending, I thought that every cocktail I was making for people had already been done. I decided to try different mixers, flavors, an all-over approach to making a cocktail. I built my first cocktail to one of my bar regulars' personality, a man named Ramon Lumbard, who was at the time working for Bacardi. He liked my approach to bartending and how I specialized a drink for everyone I met, so I started to work with them on their marketing. And as I taught them my bartending specialties, I learned their aspect of the trade as well. Everyone at the bar had their own special cocktail, which hyped up the bar experience and set me on my road to where I am today!

In your opinion, what makes for a good brand ambassador? Knowledge, personality, and some experience! A B.A. must hit the streets and talk to everyone he/she meets. Making the connections is a major part of being able to do the job. People are more likely to listen to a friend than a stranger.

You're also the founding president of the Florida Chapter of The United States Bartenders Guild. What's that all about? United States Bartenders' Guild is a fraternal organization for professional bartenders and not a labor union. Its' purpose is to enhance the image of the bartender and to support the wine and spirits industry and related trades.

In addition to the branding and the politicking, you're also on the stick at The Viceroy. What's that scene like? It has the best view in downtown Miami, which gives it a swanky New York lounge vibe. I have been there a year and a half and this keeps my finger on the pulse of what's going on in Miami.

Speaking of swingin' scenes, you were recently up in New Orleans for Tales of the Cocktail confab. What all did you have goin' on? We were very busy!! Aside from doing interviews with Martha Stewart blog, BIN Radio, etc, we represented Tito vodka, Bioron Puree, Dos Maderas, and Gran Duque DE Alba Spanish Brandy. We did seminars for all of our brands and did a fresh market bazaar where we taught people how to build their individual culinary cocktails.

Word is you were also selected for the Sundance Channel's upcoming Beyond the Bar series. Do tell us about it. Sundance was holding a North America casting call. I was one of 12 individuals that were chosen from over 3000 interviewed. They asked us about stories of being a bartender and what we thought made us special to our trade. My angle was being "Cupid's Advocate." You will have to see the Iconoclasts series to figure out what made us the pick of this litter! It starts airing October 2nd.

When you're not on the stick or repping a brand, where in town do you most dig hanging out? I like to go to local dive spots and see what they have to offer i.e. Clark's SoBe, Cuba Ocho, which is on SW 8th Street in front of Domino Park. Frank Sinatra's old bar is there, from when he had his club on South Beach in 1966. You would be surprised how good the food is. I also dig Michael's Genuine because they have a creative culinary vision they put into their food and drinks.