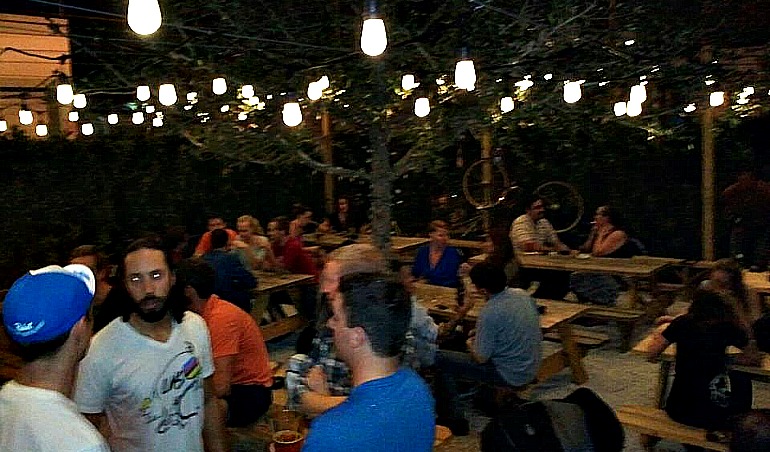 To say that bicycles are taking over the world may be a bit of hyperbole, but it's not as far-fetched as it sounds. According to Bikes Belong, a full 30% of the German population bikes at least once a week, and New York now boasts 200,000+ daily bikers. Closer to home we've seen everything from M-Path to a Sole Bikes' pop-up shop at The Hangar. Helping much to, er, move matters along is Transit Miami reporter Craig Chester, who with Nick McKissick is behind Bicycle Happy Hour, which takes place at Wynwood's ever-wowsome Wood Tavern. Pedal in each and every Thursday.

What's the what with Bicycle Happy Hour? Every Thursday from 5-8pm, local Miami cyclists meet at Wood Tavern for 50% off drinks, bike movies and other occasional bicycle-related goodies. We're mostly casual cyclists, bike commuters, etc rather than spandexed 'roadies' -- though we don't discriminate.

Why'd you decide to do it at Wood? Wynwood is quickly becoming a popular area with local cyclists, with places like Lester's, Wynwood Kitchen and Panther Coffee. Wood Tavern just seemed like a natural fit, and their staff is terrific. They also let us park our bicycles in the back garden area which is a big plus.

Is this your first foray into biking and bars? It's something my friends and I have been doing for a while. As Miami's bicycle scene continues to surge, we just figured it was time to organize something and promote it to a larger audience of cyclists.

You're also a rather active advocate, aren't you? Yes, I'm a regular contributor Transit Miami, which is an advocacy group and blog dedicated to multi-modal transportation options in South Florida. After moving to Miami from NYC in 2010, I immediately recognized the need for Miami to improve from a bicycle and pedestrian perspective.

If you had to name a bicyclist's single most pet peeve with regards to biking in Miami, what would it be? Let's just say Miami has one of the best bicycle networks in the country. The only trouble is, it's full of cars.

How can it be remedied? We need a real focus and dedication to making sure all users of the road are accommodated better and safer. Miami's streetscape prioritizes speeding cars, and the result is a city that is more friendly to cars than it is to people.

Do you see a day when bikes take over the city? I've already seen it - the last Friday of every month. Miami Critical Mass is a monthly ride that attracts over 1,200 riders of all walks and growing. It's a heck of a scene and the best time you can have on two-wheels in Miami. We meet at Government Center at 7pm on the last Friday each month. See you there!

Bicycle Happy Hour takes place Thursdays, 5-8pm at Wood Tavern 2531 NW 2nd Avenue Wynwood. For more info call (305) 748-2828 or log on here.