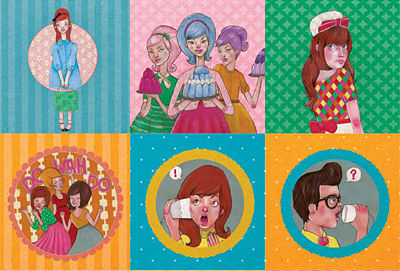 Pinkghost's Artist Chubby Books have been wowing the world for a couple years now, and with this Saturday's release of Series 3 there's no reason to believe they won't continue to do so either. Niteside tried to trackdown Paola Pinkghost herself, but she was off planning more wowful things to come. Instead we decided to check into the three latest Chubby Book artists. Here's what we found out:

Cute is indeed what they aim for... mostly: Pawtucket-based Alison Cole "dedicates [her] hours to full-time freelance illustration, participating in gallery shows, teaching, drawing comics, and creating cute and fun things for [her] Etsy shop."

Miamian Danny Brito (work pictured) "like[s] to illustrate girls in either cute dresses or nothing at all, monsters, and anything that pops into [his] head." If that's not enough, he also "like[s] to draw cute things for other people too."

Israeli-born Kukula seems to (mostly) be the exception to the cute, perhaps because "her childhood imagination was nourished by equal parts princess fantasies and World War II horror stories." That said, "the attempt to reconcile real life horror with fantasy life sweetness emerges as an almost constant theme in her work."

Those nifty new Chubby Books aren't their only great creations: Kukula's series of doll-driven prints are alone reason enough to visit KuKulaland. Brito's Polaroid Project provides fans an opportunity to have themselves rendered into something suitable for framing. And Cole's got a smorgasborg of card sets, totes, zipper pouches and prints. All of course available for your very own.
Series 3 lives up to its predecessors: Pinkghost's first Chubby foray featured Helena Garcia, Julie West and 64 Colors; Series 2 had Alberto Cerriteño, Crowded Teeth and Piktorama, each was (and is) as inimitable as the next -- and the last.

Pinkghost's Artist Chubby Books Release Party with Danny Brito, Helena Garcia and Piktorama takes place Saturday September 17, 6-8pm at Sweat Records 5505 NE 2nd Ave Miami. For more information call (786) 693-9309 or log on here.