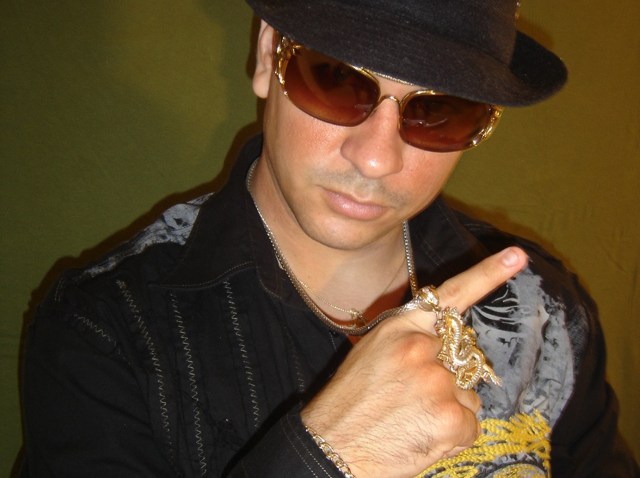 Late last year a certain set of clubs started booming to the sound of a man called Dainamite. The track was called "Que Viva el Reggaeton," and it served as a sorta fight song for those artists practicing in the genre. It also showed that the genre was a lot more expansive than anyone realized, with elements of everything from Puerto Rico (plena and bomba), the Dominican Republic (bachata and merengue), Colombia (cumbia), Cuba (salsa), and of course the United States (hip-hop and electronica). Two other tracks -- "Kiss Me" and "Dulce Caramelo" -- followed hot on "Que Viva"'s tail, and made Dainamite's eponymous debut something of a local legend. This Friday night Dainamite unveils a new collaboration with Spain's Unyque, as well as a few tracks off his upcoming sophomore LP. And you can hear for yourself why this cat is called Dainamite.

Okay, first things first: What's the origin of your name? That dates back 17 years to the first song I ever wrote. The hook said "I exploded like dynamite." And that's all the kids could remember. I spell it like that because one of my ex-girlfriends didn't know English very well and that's how she spelled it. When I saw it written like that I thought it looked cool so I kept it.

You're from the Puerto Rican seaside town of Ponce, the birthplace of the great Hector Lavoe. Would you say he's been an influence? Absolutely! Hector Lavoe is not just a legend but someone from the neighborhood who had the same hopes and dreams. I would be honored to follow in his footsteps.

Your sound technically is called reggaeton, but it incorporates everything from dance hall to electro. What other genres do you put into the mix? I mix in all types of music -- rock, salsa, merengue, vallenato, cumbia. Pretty much everything that makes people dance.

This Friday night you're staging at Zachum in Little Havana. Can you give us the details please? The show starts at 11pm, and the place -- on Calle Ocho -- is amazing. They call it a restaurant and tavern, but it's really a sorta supper club. It's run by these cool Peruvians who've built it out as a castle. Very Miami.

Last summer you played Hollywood Fest, Pompano's Fiestas Patronales, the Colombian Independence Day Festival in West Dade's Tamiami Park and Calle Ocho. What festivals have you done this summer? I just got back from Puerto Rico where I performed in the Festival del Café (The Coffee Festival) which is celebrated every year in my home town of Yauco. I was the "Artist of Honor" and I had my own float. It was very exciting.

You've also been on Channel 41, América Tévé on Miami's Channel 41 and West Palm Beach's Mi Pueblo TV. Have you any other TV work coming up? Yes, in fact I was invited to do a trailer for a new show called Ustedes y Nosotros (You and Us) and they've asked me to be one of the hosts. And I also had a scene in the soap Donde esta Elisa, which is seen internationally.

You're on the new track "Dale Por De Tras" ("Hit Them from the Back") with Spain's Unyque. How did that come about? The band heard my song "Get Down," which was receiving airplay in Spain, and they liked the concept, got in touch and asked me to guest on one of their songs. It was great experience.

What other collaborations do you have coming up? I collaborated with a Spanish singer named Felipe and a Puerto Rican rapper based in Medellin, Colombia named Malcriao, both of whom will be guesting on my new LP in fall. This is an international sound, so the more musicians I can work with around the world, the better. The next album will be a complete departure from how I normally record. It'll have a heavy tropical flavor mixed with more futuristic sounds. And it'll sound like nothing anyone has ever heard before.