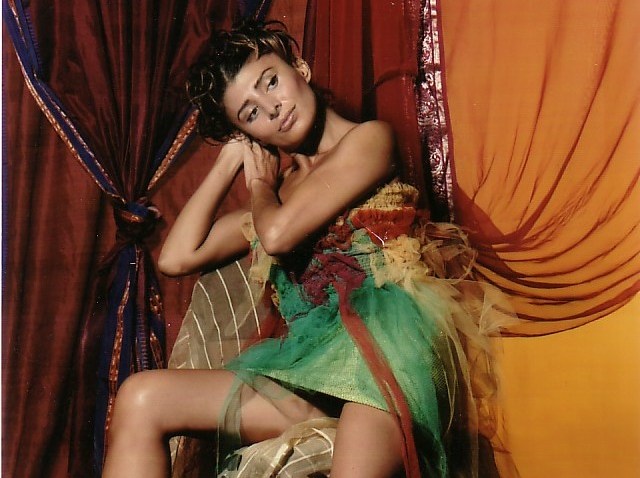 Most Miamians know Daniela Viotti from their strolls down Lincoln Road, where for the past decade and change she's appeared as one living statue or another. Others are also aware that the still life creator is an integral part of the Wynwood art building now known as RADHA, where this Saturday she'll be unveiling a series of her own sculptures. But whether she's as still as stone or as motional as mixed media, this Argentine artist will get your attention. The challenge is getting it back.

You've got a show about to open at the RADHA Art Building. Wanna tell us a bit about it? Yes. this Saturday I'm opening OBJECT WOMAN, which is a series of mixed media sculptures. The pieces talk about women and their role in different situations in society, using a mix of irony, beauty, humor and drama. The show will be on exhibit for one month.

In addition to sculpture you also turn your own body into a visual work of art. Will you please elaborate? Ten years ago, shortly after coming to the U.S. and without access to my sculpture studio, I started in the world of Performance Art. I turned myself into the art piece. Many people in the general public recognize me by my different characters. One of the most popular is my tribute to the American sculptor, George Segal -- a 50 pound plaster costume!
Wow. It is a free interpretation that I call "The Immigrant," which is very dear to so many people because they identify with the character. Miami is a very cosmopolitan city. I try to integrate a visual language with the corporeal. There are over 20 different characters and each has their own unique conceptual message, which is completed with the participation of the viewing public. The spectators always have their own interpretations. I work in different public places because I am moving living art installations out of the museums and galleries and into the street to surprise the viewer. I also work in many corporate events, festivals, charity affairs and private celebrations. I actually have a City of Miami Beach permit to perform on Lincoln Road, (in front of Victoria Secret) where I can be found when not performing at a special event.

How long have you been involved in the art world, anyway? I was born with an artistic streak and started to show my talents at 15 years old, when I won a nationwide UNESCO competition for a stamp design. Later I entered into the Juan Montovani Art School in Sante Fe, Argentina. I participated in a nationwide competition for professional sculptors and won all three first prizes: Peoples' Choice, Artists' Choice and Judges' Choice. It was the first time that the three awards went to one sculptor! From that time on, I never looked back.

Is there a different mind-set behind creating works of art and actually becoming a work of art? The same passion goes into producing all of my work, but some of the performance work is more accessible to the average person on the street than my highly conceptual sculptures.

Speaking of you yourself, word is you've sat for one of Argentina's most famous painters. Can you please fill us in? I had the opportunity to work with the legendary master Cesar Lopez Claro, a fantastic artist and friend of old masters like Diego Rivera, Picasso and Giacometti. From him I learned the kind of life these artists lived. For ten years I was his assistant and model. I was a kind of muse that appears in thousands of his drawings & paintings. It was difficult to cut the relationship between the artist and the model when I moved to the U.S. Two years later he died at the age of 90.

How'd that connection come about? This is a very interesting story: He was looking for a new model after his old model moved to Europe. I went to his museum to interview and saw a long, fast-moving line of models there to be considered. At one point his secretary announced, "The master needs to take a break." I knew that I wanted to be the model of a master, so I sneaked into his private studio and I put up a base. Then I did the pose Camille Claudel used to captivate Rodin. In the silence of his studio I could hear the sound of graphite on paper and smell the perfume of his pipe. His secretary abruptly interrupted, saying "Sorry, I don't know how this happened." And the master replied "Don't bother me. I am working with my model. Tell the rest to go." I learned that day, that you have to take a chance to win.

Is it true that while sitting for him you trained yourself to blink only twice an hour? How I admired him. I was trying to pose as if I were posing for Rodin, with many hours of difficult and dramatic positions that matched with Cezar Lopez Claro's subject matter, which dealt with military repression and all types of social issues. His work influenced my own work, as well as my thinking processes. Non-blinking came about naturally through all this self-training. He never required this type of effort. He always said to relax, but I would say that I needed to suffer so that he'd be inspired.