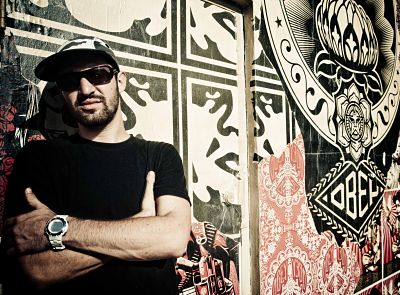 You've not only gotta have moxie to cop your moniker from one of Duke Ellington's best known tracks -- you've gotta have chops too. And DJ A-Train's got both a plenty. Resident spinman at Electric Pickle, Purdy Lounge and The Vagabond, the Artist Related op turns the tables with a mix of mad classic and utter now that's put him at the top of Miami's bumper crop of DJs. Niteside got the main man to sit still for 10 questions on the eve of a wild Winter Music Conference weekend.

When folks ask about what kind of sounds you spin, what do you tell them? I generally go all over the place. Basically, it's gotta have soul, no matter what kinda genre. Otherwise, I try to get hands in the air and hind-parts dropping -- just fun party music.

You're one of the few DJs in town who still spins a lotta vinyl. What is it about a record that something digital just can't capture? It's just got that warm fuzzy feeling. MP3s just aren't the same. Digital has opened the door for more creativity though, and a laptop is much lighter than a few crates of vinyl.

You're with DJ Irie's Artist Related. What's it like being part of such a powerhouse roster and does that give you a leg-up on the competition? Yeah, it's an honor to be chosen by Irie as one of Miami's best. It definitely helps. It's also great to be part of such a solid team of diverse DJs. We're all family at Artist Related and we're going to the top for sure. Lookout for us in 2010 and check the new website ArtistRelated.com

This Saturday night Artist Related is taking the Plunge at The Gansevoort. Who's on that bill and what can dance fans expect? I'll be rocking alongside the one DJ Knowledge and Mr. Sandman. It's gonna be a great party, hip-hop/r&b/reggae ... just all classics and throwbacks. We're actually taking over the whole weekend and Irie will be hosting. The needle drops at noon. Don't miss it.

You spin twice a week at Vagabond. What makes that club such a desirable spot for DJs (and for clubgoers)? I joined the Vagabond family right after they opened with the start of StoneGroove Tuesdays, which has been a great success. I now do (((SHAKE))) Thursdays and Back Door Bamby Saturdays -- both amazing parties. The Vagabond is the spot to go for a great party with real people and real music. It's got a very diverse following too.

Speaking of spinning at Vagabond, this Sunday you're doing a Conference closing party with Afrika Bambaataa. How does it feel to be boothing-up with such a legend? Wow. I can't even explain it. That's music history -- not just hip-hop. It's gonna be pretty epic, I just hope everyone saves enough energy to get down with us after partying all week. It's gonna be serious.

You're in on something called DJ A-Train TV. Wanna give us the details? Yeah, it's my Ustream channel. It started with live streams from the club, audio and video. I dubbed it "A-TRAIN TV... from the club to yo' crib" It's pretty sweet. You can pretend you're chillin' in the booth with me from the comfort of you lazy boy. It's great for some of my friends that are married with children and can't ever go out.

What about this Ocean Frontin' Radio -- what's that all about? Ocean Frontin' Radio stemmed from A-TRAIN TV. It's my weekly show featuring Miami's best DJs playing ... kinda whatever they want. It's cool because they're not trying to rock a dancefloor, so the guests can play songs other than all the club jams. Check us out, every Thursday 7 to 10 p.m. at www.Ustream.tv/djatrain.

On the odd night that you're not set on spin, where do you most dig hanging out? Florida Room and LIV are usually my go-to spots for a definite poppin' party. Otherwise, I'm at my home spots: Vagabond, Purdy and Electric Pickle. Oh, Bardot is a nice new spot to check out too ... live music and DJs almost every night.

What's coming up for DJ A-Train? Well, first thing that comes to mind is The Swamp Stomp festival April 24. I'll be doin' the thang along side a huge line-up of great bands. Otherwise, just trying to plan some international shows ... Europe, Asia and South America. I also have a Miami Mixtape in the work. Lookout for it.