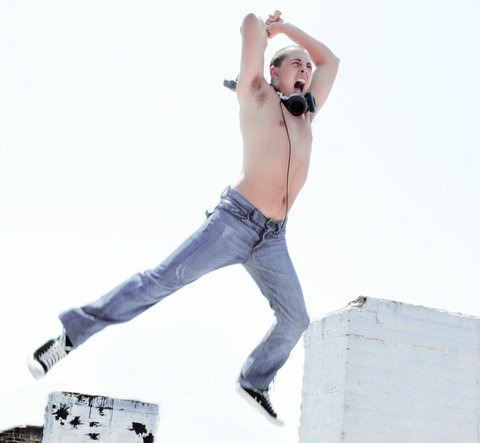 Anybody who's anybody on South Beach has hit the rooftop hotspot known as Plunge. Located atop The Gansevoort smack against the Atlantic, it's the kinda hang that naturally attracts the beautiful folks seeking to make the proverbial scene. That goes double for Saturdays, when Plunge parties to a tune called RX. Since this weekend marks the party's third anniversary, Niteside decided to get with Alex Butler, one of its three top shelf DJs.

For the few who don't yet know, what exactly is RX? RX is the rooftop pool party that happens each and every Saturday at the Gansevoort. We were recently named Miami's #1 party by the Travel Channel! We're the only pool party on Saturdays in Miami Beach that is chic yet wild. You never know who might show up!!

Saturday marks the party's third anniversary, what kinda crazy can folks expect? It WILL be crazy! you have to come to the party to find out, but we have a lot in store to kickoff another exciting year for RX!

Speaking of crazy, can you name some of the names that have hit the party since it's started? Hey, its Miami... every one and anyone can show up! In regards to specific names, my mother always told me never to play and tell :-) however... I can say that a certain Academy Award-winner and myself absolutely destroyed the pool one time. I should have received a nomination for Best Supporting Actor based on that amazing performance!

You're a relatively new addition to the line-up, how'd that all come about? If there's a party I want to spin at, I make it my business to support it. I attended RX every Saturday, and made sure to tell co-founders Justin Sheppard and Stephan Morris that I could play the heck out of the pool. Eventually my persistence payed off and they booked me for a guest set. I dedicated a lot of hours into perfecting that mix, and the work worked like magic! After that initial set, they booked to open and close numerous times, and in May I was offered a permanent residency alongside Justin and Joe Maz. You can definitely say I'm the new kid on the block!

Where else you boothing up these days and nights? In addition to Saturdays at RX, I'm also at Grove Central every Thursday. Recently clubs from outside of Miami have been booking me frequently in cities like New York, Washington DC, Chicago, and Los Angeles.

Soundcloud has a rather rad remix you did of Far East Movement's "If I Was You." Any other of the sort on the horizon? Thank you for the compliment! That's actually a remix I did with my partner DJ Doubletake who's based in Boston. We have a great relationship with Far East Movement, so we're hoping to produce some great stuff for them in the future. Also Wynter Gordon and I went to high school together and I'm hoping to get her on a track soon! Other than that, right now I'm penning my first original track which I'm hoping to release in the next few months. Think 10 shots of tequila mixed with some dirty nasty vocals and you have the concept!

Got anything else coming up we need to know about? I'm excited to report that me and my partner Shawn Hirji recently founded a company called Bespoke Marketing. We have a ton of events planned in the short term so get excited! Additionally I'd like to announce that I'm pregnant! Okay, that's not true, but I am getting married!! Darn that's not right either! Ummmm I'll be attending the Hogwarts School of Witchcraft and Wizardry as a Hufflepuff? Darn that's not right, oh well, 10 points for Gryffindor!

RX takes place each and every Saturday at Plunge The Gansevoort 2377 Collins Avenue South Beach. For more information log on here.