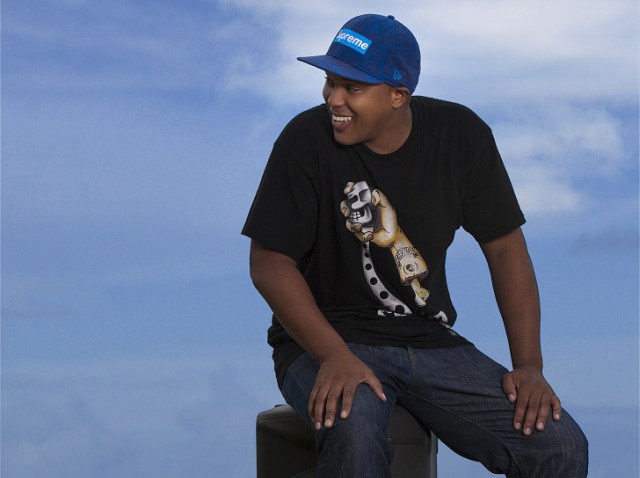 DJs dream of spinning The Delano. No, it's not the biggest room on South Beach, nor is it the loudest, but it is one of the most prestigious. And in a world that runs on how you're ranked, prestige counts. That makes DJ D-Up's two-year residency at the fabled inn something of a coup. Throw in his spinning at The Shore Club and you've got yourself something of a phenomenon.
You recently released a new mix CD called When Worlds Collide (Live at the Delano Hotel). Wanna tell us about it? This is my latest mix CD and I just released it last week. I've been the Saturday night resident at the Delano Hotel for about two years now so I wanted to release a live mix that shows what I do there and how I play. In a night you will hear me play all types of music -- hip hop, house, rock, '80s, reggae, Miami Bass, Baltimore Club, freestyle... and more. I really wanted something that would showcase that.
This mix is a follow up to my last open format mix CD, Live at Mokai. That mix was so well received, but that was over a year ago, and it was time for something that shows what I do at the Delano. There are tracks by all types of artists, including B.o.B., Afrika Baambaataa, Freeez, Klymaxx, Expose, Talking Heads, Uncle Al, 2 Live Crew, Passion Pit, Calvin Harris, Swedish House Mafia, Afrojack, etc. I like to mix it up on people and try to shock them, but mix it so it makes sense, not just throw a bunch of tunes together. I think this mix captures what I do in a night.
What's the scene like there these Saturday nights anyway? I'm loving it! It's been real live on Saturdays. I DJ by the pool so people start dancing in the water and all over place. Pretty much a mix of locals and people visiting who are looking to party. It's been great also because, musically, the crowd goes with me and they party hard. I have a lot fun playing there.
Aren't you also in residence at The Shore Club? Yeah, I'm there on Thursday nights with DJ Self Born and hosts Patricia Noorzai, James Brown-Hernandez, Mark Gordon and, of course, The Shore Club. We have a new party in the Red Room called "Flashback Thursdays" where we play funk, soul and '80s music. It's been going on since about mid-June and the response has been unbelievable. People have come out and have shown so much love, and The Shore Club has been super supportive, too. Although we focus of the funk, soul and '80s, we also throw in some rock, freestyle, classic house, old school, etc. We really want to bring something different and there's nothing like what we're doing going on.
What else do you have goin' on, spin-wise? It's been crazy lately. Among other things, I've done some great club nights outside my residencies and I've also done some great events and showcases for Scratch DJ Academy. Recently, I've performed for MTV, B.E.T., ESPN, Red Bull, Seventeen Magazine, Malibu and the AVP Tour (Pro Volleyball). I just performed at Bayfront Park Amphitheater at the Honda Civic Tour for Paramore, and I also just did an event for Seven For All Mankind. I was the DJ for ESPN and Red Bull during their 2010 Super Bowl Weekend. I recently went on a Caribbean tour with Royal Caribbean, touring Jamaica, Grand Cayman, Bahamas, St. Thomas, St. Maarten, Haiti and Mexico. I've also played nights at other venues including, Klutch, Rokbar, The Florida Room, LoveHate, W Hotel (Ft. Lauderdale), White Room, Vagabond and more.
I also work with and DJ for Miami rapper, Black Bobby. I'm Bob's live-show DJ and that's kept me busy. We've shared the stage with some of hip hop's finest, including N.O.R.E., A.Z., and Cormega, as well as Miami's own iMAYDAY! and Afrobeta. We have done shows at White Room, Vagabond for (((SHAKE))), Jazid, Churchill's, Transit, Sweat Records, Miami Independent Thinkers for Art Basel and much more. I also did the mixed/DJ version of both of his mixtapes, Phat Kid Tendencies and Negro Dialect. Other than that, I've also been releasing my own mixtapes. I just released the first in a series of "underground" hip hop mixtapes, I'm the DJ, He's the Rapper, as well as my latest house, electro, indie mixtape Rare Form" (Vol. 4). Oh yeah, and if you're on the beach, I play a set at Crunch on Washington Ave. every Tuesday (7-9pm).
What's hottest on your playlist right now? Cee-Lo's "F*ck You." This could be the song of the year! One listen and you can't argue with that. Ever since Goodie Mob, I've been a big Cee-Lo fan. He continues to keep it fresh and different. You gotta love that. People hear this and go nuts, too.
Kanye West's "Monster." Love him or hate him, Kanye has a big tune right here. Pretty much everything that's come out lately is either really slow or really fast, so it's great to have that classic mid-tempo hip hop sound back in rotation.
Swedish House Mafia's "One (Your Name)" (Remix). This is a club banger. SHM already had a huge tune with "One," but with Pitbull on the track it makes it even more live. Pitbull does his thing over these house beats. This tune gets people rowdy. I'm never mad at that.