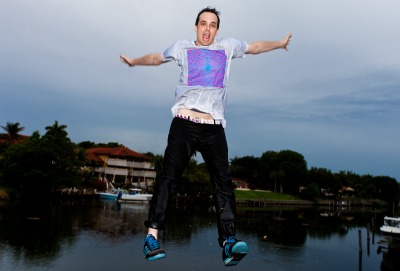 When Niteside last chatted up Induce, the uber DJ/Producer was dizzy with the fourth part of his "Lost and Loved" mix series and making sure the world heard that even heartbreak can have a kickass beat. Now though he's all about The Wonderful Sound of Induce!, a full-length slab of awesome groove which will leave you believing in angels of the night. With two new takes on the LP's first singles currently making the rounds, we decided to again let loose with Induce.

What came first: "Pretty" or "Get Down Saturday Night"? Well, "Get Down Saturday Night" was the song that set The Wonderful Sound Of Induce! in motion. One day Manuvers, who produced the song, called me up and said "Hey, I have this track for a cover of Oliver Cheatham's "Get Down Saturday Night" and I want to hear how it sounds with vocals on it." So he came over, I started messing around, and five hours later the song was 80% done. He basically tricked me into recording!

Now you've done dropped simultaneous remixes of both -- are you trying to confuse people? Haha, nooo! It's just more beautiful music for people to listen to! First of all, local heroes Ketchy Shuby covered "Pretty" and took it from early '80s boogie to early '70s Soul. Jay (singer for Ketchy Shuby) totally flipped the whole vibe and he bares his heart on it as if he wrote the damn thing. Then we have the Deviant remix of "Saturday Night" that makes the track a bit more club friendly. And finally there is the "Get Down" remix by Renzo Torti. Renzo is an older dude from Chile with a crazy vintage synth collection who truthfully had no idea what a remix even was, so his version is more like a cover, where he recreated every sound to a tee. All these are up on my Soundcloud page for free.

Since you're a Miami DJ answering these questions from New York though, we still think you're up to something. What is it? Well, I'm up here visiting a few radio shows to help promote the single and playing the Nextah party with Nick Catchdubs and Nick Hook (Fools Gold), and Michna (Ghosty International). I also might go by the Fat Beats office and record a song just for the funk of it.

Have you successfully cored the Big Bad Apple with The Wonderful Sound? If you go to my Wonderful site you'll see that I'm actually on a mini vacation in Virgina Beach, looking for D'Angelo's house.

Will you be coming back to the MIA some day? Always! Miami will always be home! Plus I have to get back to play Electric Pickle this Saturday. In fact, that's where you can find me most Saturdays, and then the Arkadia pool at the Fontainbleau on Sundays. Most of all, I gotta get home to finish this top secret next album! While The Wonderful Sound Of Induce! album is finished and coming soon, I'm already nine songs deep into the next one!

Any other crucial tidbit(s) you care to share before we let ourselves go go go? I put this record out myself so please please please go on iTunes and buy that sh-t! Or if you want the ultra pretty vinyl 12", you can go to Radio-Active Records in Fort Lauderdale or Sweat Records in Miami.