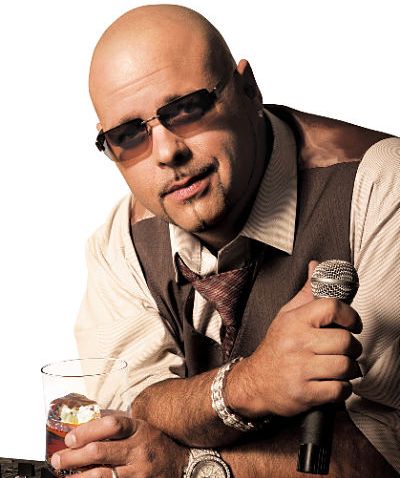 He put Latin Bass on the map two full decades ago. He's been on air at Power 96 even longer. He's teamed with T-Pain and Pitbull, remixed Luke and Gloria, and he's lent his talents to the Miami Children's Hospital branch of Radio Lollipop. He is DJ Laz, and he's "known to play as hard as he works." This Saturday the morning drive-time DJ mixes it up with Hennessy at Top Hat Wine & Spirits and Kaffe Krystal.

Before we begin, how'd you get that tag "Da Pimp Wit Da Limp"? For obvious reasons. I was born with a rare birth defect, but what I lacked in physical ability i gained in personality. I have always been a ladies man. So when you combined the two it was a no-brainer.

Any other nicknames we need to know about? Not that I am aware of LOL!

What's the scoop on the first of your two Saturday night spin dates? My first event will be the Top Hat anniversary party.. We will be sampling Hennessy and helping people discover the versatility of Hennessy.

And the second? The second activation is a nightclub-oriented evening at Kafe Krystal in South Miami, which will be turned into a Hennessy Lounge. I'll be spinning live, and our Hennessy models and Hennessy promotional team will be showing the versatility of the brand.

Have you some history with Hennessy? I started with the Hennessy DJ Collective in the beginning of 2011. For the past year they've flown me around the world to help educate people on the mixability of the brand. I have helped mix the music and the drinks -- and I have had a blast doing both!

What other outside-the-station spin dates have you got coming up? This Friday Night I will be with Timbaland at Passion Nightclub for the Power 96 South Pole Christmas Party. After Saturday's Hennessy events, it's off to vacation. I'll be meeting my nephew Mr. Worldwide Pitbull at one of our favorite vacation destinations, following that I'll be back to jump on my 42' Hydrasport Open Fisherman to fish the Caribbean with my son and some close friends.

DJ Laz appears Friday at Passion, and Saturday at Top Hat and Kaffe Krystal.