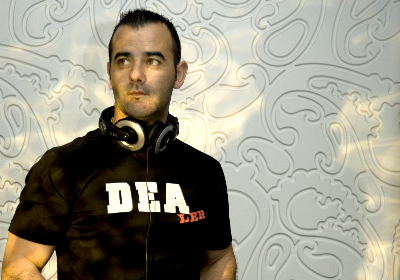 It's been just about a decade since Tel Aviv-born DJ Lee Or made his South Florida debut at Nikki Beach. Over that time, he's boothed up everywhere from Pawn Shop to The Fifth, and Black Sheep to The Catalina -- not to mention mad dashing round the globe every chance he could get. These days, when Lee Or's in town, he's holding it down at Essensia Lounge, where his world-wise spin is just what the jet set ordered, even if they've only jetted from across Collins Avenue.

If you had to narrow it down, what type of music would you say you spin? Tech house, upbeat music with some vocal and not too fast -- a very European sound. And deep house, which of course has more bass, yet touches upon jazz and disco with some vocals. It's a stylish sound. Both of these are quality -- vs. commercial -- genres. And both touch your soul.

But the meaty beaty stuff isn't all you spin is it? No, it isn't. I also like to spin old school, classic disco, '80s and funky house.

So I take it you play a good mix every Thursday at The Palms' Essensia Lounge? Yes. The night starts with some funky and deep house. Then it progresses to tech house, mixing in some nice disco and 80s tunes that fit the feel of the night. And throughout it all, I'm accompanied by a percussionist who compliments the current song and gets the crowd going.

How long have you been a residence at Essensia anyway? It's been four months now. The hotel is really chic. I play in the terrace out back surrounded by a garden with dim lighting and a comfortable yet modern decor. The crowd is a nice mix between locals and tourists. Not a young kiddie crowd. Everyone is there to enjoy the music, have drinks and talk with friends, dance and maybe have some dinner. They really enjoy themselves, which is why I enjoy it.

You also take on a lotta out of town action. Care to fill us in? Recently, I did some stuff in L.A., and loved the city and the crowd. In September, I'll be touring California again. I also have upcoming plans in the Dominican Republic, Mexico, Spain and possibly even Marrakesh. I will post the dates on my website when all is solidified.

What city has the wildest dance floors? I have to say next to Miami, Tel Aviv is one of the wildest cities to spin. At the venue Ahoman 17, for example, people just come to party -- nothing less. Brussels Lounge in Laguna Beach, Calif., also has a fun crowd, and it's quickly becoming one of my favorite places to play.

Speaking of wild, can you name some of the wildest tracks to have lately made your playlist? "Cantona Kung Fu" by Kevin Griffiths and "Bah Samba" by Em Bo La. These two tracks have a very strong sound with very nice vocals. And anyone who hears them gets crazy!

What about classics? "Can't Love" by Manuel Tur; "Burak Sar" by SIS; and "Moan" by Radio Slave are always on my play list

When you're not boothed-up in some hotspot, where in town do you dig hanging out? I like to hang out in the Electric Pickle sometimes. In fact, I used to play there. And I like to eat at Mandolin Aegean Bistro or Michael's Genuine for their great food and relaxed away-from-the-scene atmosphere. And, once in a while, I fancy a coffee or a drink with my friends at Segafredo's.