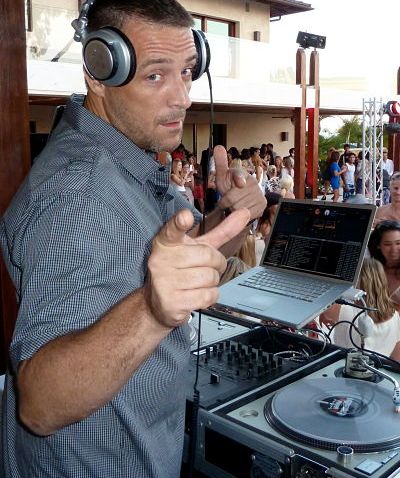 Contrary to some popular opinion, it takes more than a laptop and a keen ear to be a topnotch DJ. It also takes vision. Whether that vision comes literally or figuratively, a truly effective spinner must be able to see the forest and the trees. Case in point: Video Deejay Tom Laroc, who uses both his ears and his eyes to create what can best be described as an extra-sensory experience. For proof check out his visionary new edit of Jay-Z and Kanye live in Paris (below); then hit Ricochet and Chalk this weekend to see and hear firsthand just what all the hot fuss is about.

Wanna tell us a bit about this new clip you've got? The new clip is a live concert edit of Jay-Z and Kanye West's "Ni**as In Paris". I went through over 1000 minutes of YouTube footage and edited it down to the hottest three minutes. The footage is from shows all around the country of the Watch The Throne tour that fans posted on online. Video DJs around the world finally have a music video to spin for this song. I've been working on these live edits for a minute now, it adds excitement and engagement with my fans when I perform video DJ shows.

In addition to editing, what have you been working on? Video mapping the city of Miami! Video mapping is an exciting new projection technique that can turn any surface into multiple video displays. We use specialized software to mask projected content to fit perfectly on irregular shaped objects or buildings. For over two years I have been working hard, getting a few mapping teams together and working on several projects. This past October we landed our first large scale projection mapping performance for Glitz TV at SoHo Beach House. Currently we're working on projects for stage designs, Miami Marlins and your favorite rapper.

Where are you performing nowadays? Weekly you can catch me Friday night at Ricochet, the hot new lounge in midtown, with Alan Roth and Tommy Pooch. I'm spinning all video sets and people are enjoying seeing and hearing the music videos they love. Saturday nights I'm back on South Beach at the newest fun spot for locals called Chalk. It's an upscale ping pong and billiards lounge complete with LED lighting, HDTVs, private VIP rooms, full bars, sound system and, of course, a DJ booth. The playlist for Chalk is like no other. You will hear Kraftwerk, Cut Copy, Rolling Stones, Bravery, Neon Indian, and Depeche Mode. Indie, New Wave, Nu Disco and classics. It's the new place to be on South Beach.

What else do we need to know about Tom Laroc before you go-go? In 2012 I will be working with Miami artist Alex Yanes on a project that combines art, sculpture, projection, animation and music. I've worked with him and his collective, Surface Merchants, a couple times and this year we will break new ground with our ideas. I will also tour around Europe and Asia this spring/summer, performing video DJ sets from France to Tokyo. Also, we're expecting the birth of my second baby, due in May. It's a girl!

DJ Tom Laroc spins Fridays at Ricochet and Saturdays at Chalk. You can see more of his edits here.
<iframe width="1280" height="720" src="http://www.youtube.com/embed/bpGqcReQHbI?hd=1" frameborder="0" allowfullscreen></iframe>