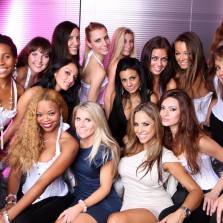 No longer is the phrase 'touched by an angel' limited to the lovers of Drew Barrymore, Cameron Diaz or Lucy Liu. Why's that? Because a group of masseuses named Angel Squads have just alighted in our town, and they're bound to lay their hands on everyone. Well, everyone who's keen enough to ring for an Angel anyway. When Niteside first heard a coven of heavenly ladies would be descending upon Vita, we didn't believe it. Squads leader Emily Burge set us straight.

What exactly is Angel Squads? Angel Squads is a company that sends out cute massage angels to VIP bars, nightclubs and restaurants in and around Miami. Our angels also massage at special events, from corporate to charity events, pool parties, trade conventions... you name it, we're there! Our angels do promotional model work too.

Hmmm.. hot chicks putting their hot hands on partying people? Could be risky. How do you keep folks from trying to get more than what's offered? The massage is in public so if anyone would be stupid enough to try something in public then they will be dealt with by the venue's security. My angels are all trained to deal with challenging customers in a professional, polite and patient manner.

Ever have anybody, er, push their luck? In my experience as a massage angel, no one ever pushed their luck. People are generally respectful. You may get the odd comment, but you just have to let it go over your head. A couple of angels have come across guys who played dumb and didn't tip. How could they be so cheap?!

Now that that's settled. Which Angels will be on tap tonight at Vita? There will be around 20 angels at Vita all in the pretty white corset with feathered wings. They all have a range of looks and styles so there is something for everyone :-) Jackie will be there. She's teeny tiny but don't be fooled, she gives a very strong massage! Tina will be there too. She is a 6 feet tall, Norwegian blond with amazingly strong hands. I literally melted when she massaged me! Our angels are all smiley, bubbly, outgoing, sexy and sweet. We really do have a great team bond. Lots of the angels have become good friends through working together.

I take it you'll be hands on too, no? I'll be hands on but in another form. We're having an Angel Squads presentation so I'll be running about making sure everything and everyone is all set for that. Of course I'll also be meeting and greeting, networking and speaking with the press. I'll certainly need a massage after the party!

What made you get in this racket anyway? I met my business partner in Ibiza while I was working in a posh sushi restaurant. He loved my massage so much he invited me on his boat the next day to massage him and all his friends (don't worry, I made sure there were girls on the boat!). To cut a long story short, turns out he is a very successful entrepreneur with businesses all across the world. He knew that this massage concept was missing in Miami and so he shipped me over here to set up the company with all my massage angel know-how. Unfortunately he won't be at the launch party as he's away on business, but he'll be there in spirit. He's all about people with 'good energy' and he has bags of it! He's such a great inspiration to me, Gisele and Adriana. We have learnt so much from him we call him 'The Master'.

How'd you come to select Vita for the Squads' debut? Vita was one of the first venues to welcome our massage angels to work around their venue. Vita has been very supportive, so as a thank you we wanted to hold our launch party there. You scratch my back; I'll scratch yours. Vita is also such a great venue to have any sort of party. It really hits the nail on the head with the music and lively atmosphere. Guaranteed blast!

Do you plan on making these evenings a regular thing? Who knows? It's the official launch and we only plan to do it once, but never say never for another party. We have a Facebook group and we're on Twitter so people can check where the angels will be massaging on what night. Check Angel Squads out!

What about between times? Does one have to hit a club to experience all that Angel Squads has to offer or do you make house calls too? Yes, we make house calls but not for private massage. We've had angels massaging at house parties. My business partner had a pool party at his place the other day and the angels were massaging everyone as they were chilling out. Angels wear a different uniform for daytime work which includes a white tank top with the Angel Squads logo on the front and sewn on sequin wings on the back. A couple of Angels will be going to a NFL players pool party on Sunday. They are looking forward to that shift indeed!

If the party host wants the massage to be free to his or her party guests then this can be arranged. It involves the host paying us to have the angels there. When we send girls to nightlife venues, special events, exhibitions, etc... and they work off tips then we send the angels free of charge. The angels pay us a fee to work.

Before we go, what is the one thing NOT to say to an Angel Squads lady? "Is there a happy ending?" Like we haven't heard that one before!
Angel Squads' launch party is tonight 8pm-10pm @ Vita 1906 Collins Avenue South Beach. For more info log on to www.angelsquads.com