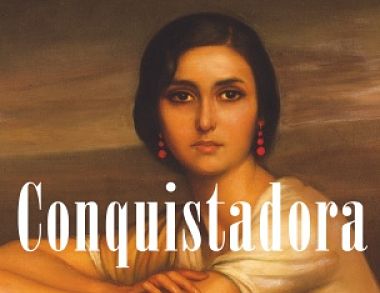 What do you get when you drop the author of When I Was Puerto Rican into a steamy, sultry stew of 19th century island intrigue? You get Conquistadora (Knopf $27.50), an imaginative re-imagining of things from a strong-willed woman's point-of-view. You also get one helluva historical epic. Niteside got with author Esmeralda Santiago on the eve of her appearance at Books and Books.

Who's Ana Cubillas and how'd she become your Conquistadora? Ana Larragoity Cubillas is the descendant of one of the soldiers who accompanied Ponce de León to Puerto Rico. (The character is fictional.) Ana becomes obsessed with his journals and diaries, and as an adolescent, decides to find a way to follow in his footsteps. She marries a man who owns land on the island, and convinces him, and his entire family to move to Puerto Rico. Once she arrives there, many of her romantic notions about the tropics are tested, challenged, and ultimately force her to become like her ancestor in surprising ways.

Were there even many female plantation owners in 19th century Puerto Rico? I found a few female plantation owners, widows who inherited their husband's land, but I had no documents to prove how active they were in the operations. I believe that there were women like Ana in the Caribbean, but with no hard proof. I created her.

You delve deeply into Puerto Rico's history of slavery. What was the most surprising/alarming thing you discovered about that past? The most surprising/alarming historical fact was 1848's Bando Negro contra la Raza Africana, a law that punished people of color, whether free or enslaved, for the most minor infractions, such as not ceding the path to a white person or looking a white person in the eyes. The law was a reaction to slave insurrections in nearby islands, and was promulgated in an attempt to frighten slaves and keep them from rebelling to seek their freedom.

Was there anything else of the period that surprised you? Puerto Rico has been viewed, first by Spain, and most recently, by the United States, as an important military outpost, overrun by large numbers of soldiers, massive fortifications and bases that were expensive to build and to maintain. The island has always been poor, especially under Spain, because the funds (el subsidio) to pay soldiers, to buy munitions, to repair fortifications, seldom came on time, and often, not at all. There were futile mutinies by soldiers demanding payments for their service. Many were never able to return to Spain.

It was poignant to think that we are the descendants of so many soldiers and military men cheated of their salaries and pensions, but who, over five hundred years, have failed in their efforts to be independent either from Spain or from the United States. It made me wonder whether we, Puerto Ricans are afraid to challenge authority.
Esmeralda Santiago July 19 at Books and Book 265 Aragon Ave Coral Gables. For more information call (305) 442-4408 or log on here.