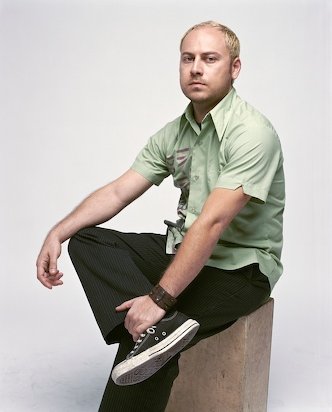 This Saturday night, amid the usual hullabaloo that greets each Art Walk, Butter Gallery will become scenester central. Why? Because the infamous Francesco Lo Castro's solo show boasts near floor-to-ceiling portraits of the sort of full-on Miamians who could each be a scene unto themselves. Then again, what else would you expect when Miami's most with-it visualist turns his palate on what one critic calls "those who have shifted the tectonic plates of the sophisticated urban underground of his home city"?

Wanna tell us a bit about this weekend's solo opening? The show represents a heartfelt love letter to Miami. The note of affection was too big to send in the mail, so it's going to sit at Butter Gallery instead.

It's about the unique, talented and mad crazy people of Miami, depicted in a series of 30 larger-than-life portraits and photographs, a year-long project that ranks at the top of the most fun and challenging endeavors I've ever embarked on. For all the clichéd stories that are known about Miami the world over, the city's more current profile, who and what is making this metropolis so culturally stimulating and all around attractive on a global scale these days, is still enigmatic to most. To me, it was definitely time to put Miami's contemporary history into a present, more personal context and this series of recent work is my way of starting that documentation.

Miami's a big, bad city though, how did you decide who to include? I began approaching long-time friends and acquaintances from Miami's arts and culture scene who I'd been wanting to collaborate with for quite a while. I persuaded them to come into the studio for a quick photo shoot and it naturally progressed into passed on recommendations for several other distinguished candidates, from musicians, performers and fine artists to social activists, style mavens and journalists (hint hint). Collaborating with friends in a new light of creative pursuit while meeting a whole slew of intriguing Miami personalities ended up being a more than insightful learning and growing experience.

Sharing this common ground through my paintings has definitely opened the door to what seems destined to be an ongoing project, to include many other Miami culture kings and queens.

What's the big idea behind the cool and unequivocal tone you've chosen to render each portrait? I wanted to explore a new technical angle for myself. Since a lot of my previous artwork had been rendered with a very bright and colorful palette, I decided to drastically tone down the spectrum and work with a limited, carefully selected combination of colors, resulting in a visually cohesive exhibition that alongside the persons depicted also pays tribute to the ubiquitous set of "1970s South Florida" color tones that we all have a love-hate relationship with.

Was there a singular reason for their over-sizing as well? Is there any other way to depict people whose personalities are larger than life to begin with? Besides, I LOVE painting big!

Of the 22 figures you've selected, was there one who initially set the stage for the others to come? The first portrait of the series that came to fruition was of South Florida Drum & Bass DJ Danny Bled. Halfway through completion, I presented it to Paco, owner of Butter Gallery, and we immediately knew we were onto something.

Portraiture has a long and storied history, who among the past's portraitists do you find most inspiring? No single name really springs to mind, not because I'm claiming that I've reinvented the wheel here, but because I feel that most of them have probably found their way into my creative psyche in some form or another. In fact, assuming one of the most historically pervasive forms of painting was my way of taking the artist as much out of the equation as possible and present a very direct dialogue between the art and the viewer, where the gaze of the subject meets that of the observer and with nothing else in between to obstruct that connection.

Speaking of Butter Gallery, what it is about Paco and his rather robust roster that drew you to the fold? The artist-gallery relationship can be very complex and is never easily understood when only viewed from either vantage point. It takes longevity, wisdom and a thorough understanding of not only the business of art but also knowing how to effectively deploy an artist's creative skill for maximum mutual benefit. Francisco "Paco" de la Torre wields that understanding with enormous virtuosity, making him not only one of the most sought after art dealers in Miami, but also a dear friend who cherishes his artists' trust and commitment.

When you're not capturing the core of Miami's most colorful characters, where in town do you most dig hanging out? The less pretentious, the better... so no velvet ropes for me, thanks. I buy my records at Sweat, drink my beer at Churchill's, eat my vegetarian food at Garden of Eatin' and usually shake my legs uncontrollably at the Vagabond.

What's next for Francesco Lo Castro? Painting three new murals to be unveiled during Art Basel Miami week, then catching up on several painting commissions plus upcoming shows in Germany and SCOPE New York and curating a group exhibition of Miami's finest talent in The Hamptons next summer.